Seek: Reports from the Edges of America & Beyond (Paperback)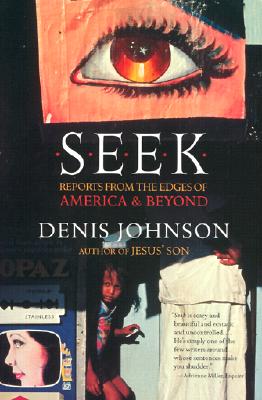 List Price: $15.99
Our Price: $13.59
(Save: $2.40 15%)
Warehouse, In Stock | Usually Ships in 1-5 Days | New
Description
---
"Johnson writes with a fervor that can only be described as religious. Seek is scary and beautiful and ecstatic and uncontrolled…he elevates the mundane to the sublime; he boils things down to their essence. He's simply one of the few writers around whose sentences make you shudder." —Adrienne Miller, Esquire
Part political disquisition, part travel journal, part self-exploration, Seek is a collection of essays and articles in which Denis Johnson essentially takes on the world. And not an obliging, easygoing world either; but rather one in which horror and beauty exist in such proximity that they might well be interchangeable. Where violence and poverty and moral transgression go unchecked, even unnoticed. A world of such wild, rocketing energy that, grasping it, anything at all is possible.
Whether traveling through war-ravaged Liberia, mingling with the crowds at a Christian Biker rally, exploring his own authority issues through the lens of this nation's militia groups, or attempting to unearth his inner resources while mining for gold in the wilds of Alaska, Johnson writes with a mixture of humility and humorous candor that is everywhere present.
With the breathtaking and often haunting lyricism for which his work is renowned, Johnson considers in these pieces our need for transcendence. And, as readers of his previous work know, Johnson's path to consecration frequently requires a limning of the darkest abyss. If the path to knowledge lies in experience, Seek is a fascinating record of Johnson's profoundly moving pilgrimage.
About the Author
---
Denis Johnson is the author of The Name of the World, Already Dead, Jesus' Son, Resuscitation of a Hanged Man, Fiskadoro, The Stars at Noon, and Angels. His poetry has been collected in the volume The Throne of the Third Heaven of the Nations Millennium General Assembly. He is the recipient of a Lannan Fellowship and a Whiting Writer's Award, among many other honors for his work. He lives in northern Idaho.
Praise For…
---
"There isn't an American voice I love listening to more than Denis Johnson's." — Michael Herr
"To put the matter simply, Denis Johnson is one of the best and most compelling novelists and story writers in the nation." — Elle
"Johnson's dark and violent fiction has prepared us for some of what we find in Seek, but ultimately it's his confrontation with the truth. . . that gives the book its flashes of brilliance." — Ted Conover, New York Times Book Review
"Denis Johnson writes with a fervor that can only be described as religious. Seek is scary and beautiful and ecstatic and uncontrolled…he elevates the mundane to the sublime; he boils things down to their essence. He's simply one of the few writers around whose sentences make you shudder." — Adrienne Miller, Esquire
"Mr. Johnson zeroes in on the details that bring the reader into the story." — The Wall Street Journal