Heads On and We Shoot: The Making of Where the Wild Things Are (Hardcover)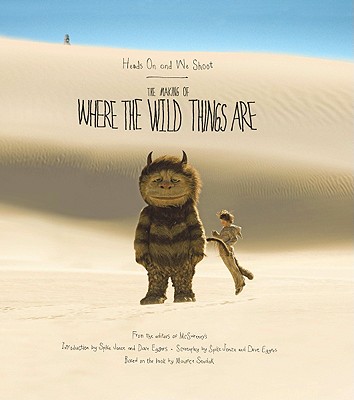 List Price: $39.99
Our Price: $37.99
(Save: $2.00 5%)
Description
---
Maurice Sendak′s classic book Where the Wild Things Are follows the adventures of Max, a headstrong young boy who leaves home after having a fight with his mother, only to find himself in a mysterious forest bordering a vast sea. Misunderstood and rebellious, Max sets sail to the land of the Wild Things, where mischief reigns. But how do you turn one of the world′s favorite children′s books into a movie?
This film incorporates the most dynamic elements of voice performance, live-action puppetry, and computer animation into a live-action adventure story that captures the magic of the book-and takes it to a new dimension. In order to preserve the realistic nature of the film, the Wild Things are not created digitally. Instead, Spike Jonze brings these characters to life in the form of physical suits built by the Jim Henson Company. These creatures, operated by a suit performer, interact with the live actor playing Max on set in front of the camera. After principal photography is finished, CGI is being used to make the creatures completely lifelike and convincing.
HEADS ON AND WE SHOOT unveils the unique collaboration behind this highly anticipated film-the combined work of Maurice Sendak, Spike Jonze, Dave Eggers, and all the cast and crew. The book design is heavily image-based, a mix of early sketches, storyboards, character designs, and extensive behind-the-scenes photographs that show both incredible live-action puppetry and computer animation. The text includes forewords by Jonze and Eggers, interviews with the cast and crew, stories from on and off the set, and early drafts of the screenplay. The resulting book will be simultaneously a beautiful object for collectors, an insider′s guide for devotees, and an intimate window into the creative process.
About the Author
---
Spike Jonze has directed Being John Malkovich and music videos for artists including The Beastie Boys, Weezer, Daft Punk, Fatboy Slim, and Tenacious D.
Dave Eggers, a former professional stundman, is the editor of
McSweeney's
and the author of the
New York Times
bestseller
A Heartbreaking Work of Staggering Genius.