All Joy and No Fun: The Paradox of Modern Parenthood (Paperback)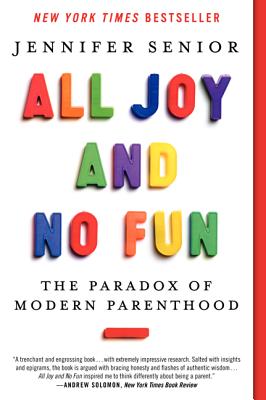 List Price: $18.99
Our Price: $16.90
(Save: $2.09 11%)
Warehouse, In Stock | Usually Ships in 1-5 Days | New
Description
---
"Salted with insights and epigrams, the book is argued with bracing honesty and flashes of authentic wisdom…[an] excellent book."—Andrew Solomon, The New York Times Book Review
"[A] richly woven, entertaining, enlightening, wrenching and funny book."—The Washington Post
The instant New York Times bestseller that the Christian Science Monitor declared "an important book, much the way The Feminine Mystique was, because it offers parents a common language, an understanding that they're not alone."
Thousands of books have examined the effects of parents on their children. But almost none have thought to ask: What are the effects of children on their parents?
In All Joy and No Fun, award-winning journalist Jennifer Senior analyzes the many ways children reshape their parents' lives, whether it's their marriages, their jobs, their habits, their hobbies, their friendships, or their internal senses of self. She argues that changes in the last half century have radically altered the roles of today's mothers and fathers, making their mandates at once more complex and far less clear.
Recruiting from a wide variety of sources—in history, sociology, economics, psychology, philosophy, and anthropology—she dissects both the timeless strains of parenting and the ones that are brand new, and then brings her research to life in the homes of ordinary parents around the country. The result is an unforgettable series of family portraits, starting with parents of young children and progressing in later chapters to parents of teens. Through lively and accessible storytelling, Senior follows these mothers and fathers as they wrestle with some of parenthood's deepest vexations—and luxuriate in some of its finest rewards.
Meticulously researched yet imbued with emotional intelligence, All Joy and No Fun makes us reconsider some of our culture's most basic beliefs about parenthood, all while illuminating the profound ways children deepen and add purpose to our lives. By focusing on parenthood, rather than parenting, the book is original and essential reading for mothers and fathers of today—and tomorrow.
About the Author
---
Jennifer Senior is a contributing editor at New York magazine. She lives in New York with her family.
Praise For…
---
"Salted with insights and epigrams, the book is argued with bracing honesty and flashes of authentic wisdom…[an] excellent book." — —Andrew Solomon, The New York Times Book Review
"Always generous in tone, Senior is a keen observer of the impact children have on their parents' marriages, mental health, work, and social lives, and she makes deft use of social-science research...the book's most useful contribution may be the connection it makes between joy...and, surprisingly, grief." — —The New Yorker
"[An] astute book… clear and helpful… refreshing…an eye opening debut, and it will help a lot of parents feel less alone, if not less frazzled." — —Janet Maslin, The New York Times
"An important book, much the way The Feminine Mystique was, because it offers parents a common language, an understanding that they're not alone in their struggles, and an explanation of the cultural, political, and economic reasons for them." — —Christian Science Monitor
"Jennifer Senior's excellent new book… is not prescriptive. She doesn't tell parents to be more mindful or drink more wine or neglect their kids; she just wants them to understand why they are always so stressed out." — —Hanna Rosin, Slate
"A quick, lively read...[Senior's] carefully observed case studies of modern families read like scenes from novels." — —San Francisco Chronicle
"Senior's wise compassion provides guidance that's both necessary and inspiring." — —Boston Globe
"Attention childless persons: If you're thinking of having kids, and are looking for an accurate assessment of the experience, disregard the holiday cards you may have received that portray merry families in various stages of triumph. Instead, read Jennifer Senior's book. This eloquent read is a tonic" — —Huffington Post
"[ALL JOY AND NO FUN is a] richly woven, entertaining, enlightening, wrenching and funny book." — —Washington Post
"[The] glimpses into the conundrums of other parents are thought-provoking and fun to read" — —Newsday
"Chatty, generous and yet statistically grounded reverse-angle of the usual studies of what parents do to children." — —New York Post
"If you are tempted to read just one more book on the arguably over examined subject of parenthood, let it be Jennifer Senior's wise and surprising ALL JOY AND NO FUN." — —Elle
"All Joy's signal contribution is that its journalist author chose to focus on how child-rearing affects parents-many of whom feel thoroughly stressed." — —The Week
"Jennifer Senior successfully connects a barrage of scholarship with the real experiences of moms and dads, and the resulting book, ALL JOY AND NO FUN, is completely fascinating…." — —BookPage
"An indispensable map for a journey that most of us take without one. Brilliant, funny and brimming with insight... an important book that every parent should read, and then read again. Jennifer Senior is surely one of the best writers on the planet." — Daniel Gilbert, New York Times bestselling author of Stumbling on Happiness
"If you're a parent in 2014, you have to get your hands on this book. Wise, engrossing, and so real that I fear Senior has been spying inside my house, All Joy is a must-read for those of us whose lives have been enriched and derailed by having kids." — Curtis Sittenfeld, bestselling author of Prep and American Wife.
"A lovely, thoughtful book, written in a generous spirit and with a piercing intelligence. Jennifer Senior manages to mix unflinching social commentary with a warm and compassionate voice." — Susan Cain, bestselling author of Quiet: The Power of Introverts in a World That Can't Stop Talking
"All Joy and No Fun captures the complex texture of parents lives, the joys and the sorrows, highs and lows, with remarkable insight, intelligence, sensitivity, and subtlety." — Alison Gopnik, bestselling author of The Philosophical Baby
"Jennifer Senior has written a wonderful, smart, and deeply reported book that challenges many of the most sacred assumptions about modern parenthood. Written with authority and wisdom, it is destined to be the one book that all parents take with them on their mad, hair-raising, and, yes, joyous odyssey." — David Grann, bestselling author of The Lost City of Z
"Travelling far beyond the infant and toddler years into the acute challenges of adolescence, Senior ingeniously deconstructs the kinds of experiences that all parents have but few parents talk about, revealing in countless ways that none of us are in this alone. I loved this book." — Madeline Levine, bestselling author of Teach Your Children Well
"The perfect intellectual Rx for today's overstressed parents. While scrupulously considering 'big data,' the triumph is Senior's own observations, presented with modesty and offhanded style, which brilliantly take down myths...a profound book about the meaning of love and how we raise not just our children, but ourselves." — Tom Reiss, author of The Black Count, winner of the 2013 Pulitzer Prize
"Jennifer Senior takes on the topic of how children reshape the lives of their parents. All aspects are there - the marriage itself, and the jobs, lifestyles, friends and 'their internal senses of self.' Parents will recognize plenty on each page." — Sacramento Bee
"Insightful, engrossing, beautifully researched, and elegantly written." — Go Local PDX
2014 Top Ten Book of the Year Pick — Slate
"In a series of interviews with families who are neither typical nor extraordinary, Senior analyzes the many ways children reshape parents' lives: marriages, jobs, habits, hobbies, friendships and internal senses of self." — New York Times Book Review, Paperback Row
"All Joy and No Fun is a thought-provoking exploration of how childrearing become so unenjoyable in the 21st Century, and how fads, fashions and commerce, seek to undermine 'good enough parenting.'" — Mind Hacks
"[A] smart, incredibly accurate, and thorough description of modern-day parenting… There's something wonderful about discovering facts, both scientific and anecdotal, that validates your own feelings and experiences… and the book definitely made me feel less alone." — PopSugar
"Read All Joy And No Fun by Jennifer Senior. In an era of drone parenting, where every action or inaction spurs feelings of guilt or inadequacy, this book allays fears and buoys the spirit. You're doing just fine." — Huffington Post
Coverage from NPR