The Secrets of Mary Bowser: A Novel (Paperback)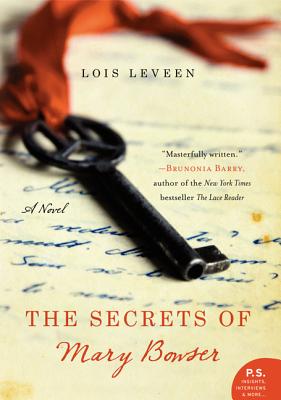 List Price: $16.99
Our Price: $16.14
(Save: $0.85 5%)
Description
---
Based on the remarkable true story of a freed African American slave who returned to Virginia at the onset of the Civil War to spy on the Confederates.
Author Lois Leveen combines fascinating facts and ingenious speculation to craft a historical novel that will enthrall readers of women's fiction, historical fiction, and acclaimed works like Cane River and Cold Mountain that offer intimate looks at the twin nightmares of slavery and Civil War. A powerful and unforgettable story of a woman who risked her own freedom to bring freedom to millions of others, The Secrets of Mary Bowser celebrates the courageous achievements of a little known but truly inspirational American heroine.

About the Author
---
Award-winning author Lois Leveen's work has appeared in the New York Times, on NPR, and in literary journals and anthologies. A former faculty member at UCLA and Reed College, she lives in Portland, Oregon.
Praise For…
---
"Masterfully written, The Secrets of Mary Bowser shines a new light onto our country's darkest history. Balancing fire and grace, the story of Mary Bowser is an ethical journey we won't soon forget, one that takes us from hatred to courage to love." — Brunonia Barry, bestselling author of The Lace Reader and The Map of True Places
"The Secrets of Mary Bowser is a good old-fashioned historical novel packed with drama, intrigue, love, loss, and most of all, the resilience of a remarkable heroine who forges her own destiny from the first page. What a treat!" — -Kelly O'Connor McNees, author of The Lost Summer of Louisa May Alcott
"Deftly balancing history, romance and adventure, Leveen honors the life and historical importance of a brave, resourceful woman." — Kirkus Reviews
"Told with clarity, confidence, and courage, The Secrets of Mary Bowser illuminates an untold and important story about slavery, the Civil War, and the role of women in achieving emancipation. A riveting and powerful book." — Naseem Rakha, internationally bestselling author of The Crying Tree
"Lois Leveen has written a captivating novel...[she] demonstrates considerable skill bringing the historical period to life. Mary's world is nuanced and complicated, but the reader is thoroughly drawn into it, never lost. The narrative voice carries with it a seamless authority, rare in novels of this type." — Oregonian
"Deftly integrating historical research into this gripping tale of adventure, love, and national conflict, Leveen brings Mary to life and evenhandedly reveals the humanity on both sides of America's deadliest war." — Publishers Weekly
"The Secrets of Mary Bowser is not only fascinating reading, but also historical fiction of the highest caliber." — Seattle Post-Intelligencer
"Author Lois Leveen's meticulously researched historical fiction is best consumed with sweet tea and a porch swing." — DailyCandy.com
"This novel will sweep you into the world of Mary Bowser without making you feel as if you're sitting in school instead of on the beach." — Statesman Journal (Oregon)