House of Furies (Hardcover)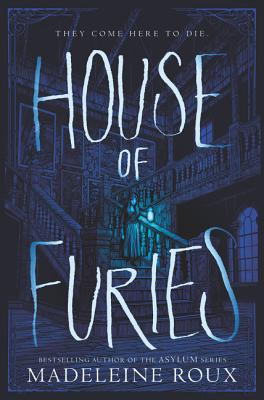 List Price: $17.99
Our Price: $15.29
(Save: $2.70 15%)
Other Books in Series
This is book number 1 in the House of Furies series.
Description
---
An all-new creepy fantasy series from the New York Times bestselling author of Asylum.
Featuring stunning interior illustrations from artist Iris Compiet, plus photo-collages that bring the story to chilling life, House of Furies invites readers to a world where the line between monsters and men is ghostly thin.
After escaping a harsh school where punishment was the lesson of the day, seventeen-year-old Louisa Ditton is thrilled to find employment as a maid at a boarding house.
But soon after her arrival at Coldthistle House, Louisa begins to realize that the house's mysterious owner, Mr. Morningside, is providing much more than lodging for his guests. Far from a place of rest, the house is a place of judgment, and Mr. Morningside and his unusual staff are meant to execute their own justice on those who are past being saved.
Louisa begins to fear for a young man named Lee who is not like the other guests. He is charismatic and kind, and Louisa knows that it may be up to her to save him from an untimely judgment. But in this house of distortions and lies, how can Louisa be sure who to trust?
About the Author
---
Madeleine Roux is the New York Times and USA Today bestselling author of the Asylum series, which has sold over a million copies worldwide. She is also the author of the House of Furies series, and several titles for adults, including Salvaged and Reclaimed. She has made contributions to Star Wars, World of Warcraft, and Dungeons & Dragons. Madeleine lives in Seattle, Washington with her partner and beloved pups.
Praise For…
---
"Eerie and elegant. Roux suffuses House of Furies with constant, creeping dread." — Chuck Wendig, New York Times bestselling author
"House of Furies takes the reader on a twisting path down a dark hall we're compelled to travel, no matter what is behind the door at the end. Darkly captivating." — Mindy McGinnis, Edgar Award-winning author of A Madness So Discreet
"House of Furies is absolutely terrific! Devious and fun, weird and scary, heartbreaking and triumphant. Madeleine Roux always—always—enchants and surprises!" — Jonathan Maberry, New York Times bestselling author of Rot & Ruin and Mars One
"Atmospheric, moody, and great fun." — Kirkus Reviews
"From eerie prologue to gory end, this gothic tale is imbued with a lingering sense of unease, offering up a Faustian plot that explores the darkest pits of human nature. Atmospheric and troubling, this series starter will sink its hooks into readers as surely as it frightens them." — Booklist
"Roux (the Asylum series) brings her gothic setting to rich life in this darkly delightful (and frequently gruesome) series opener." — Publishers Weekly
"House of Furies digs its claws into you and won't let go; a mesmerizing, haunting, gorgeously written journey into the heart of darkness." — Michelle Gagnon
"Madeleine Roux's House of Furies is both thrilling and effortless, catapulting the reader forward through a labyrinth of gothic mystery, tantalization and suspense." — Andrea Portes, author of Anatomy of a Misfit
Reviews for the Asylum series — ;
"A strong YA debut that reveals the enduring impact of trauma and terror on a place." — Publishers Weekly
"A good choice for readers who enjoy books with scary situations that lead to a solid climax." — Voice of Youth Advocates (VOYA)
"Horror readers and fans of the TV show American Horror Story will delight in its fast-paced plot." — Booklist
"Page-turning and visually creepy." — Kirkus Reviews
"Days after reading Asylum, I'm still haunted by the images that Madeleine Roux's words conjured. Brilliant!" — New York Times bestselling author Zac Brewer
"Madeleine Roux's Asylum takes the fondest dream of our collective nerdy childhood and handily turns it into the scariest collective nightmare." — Tor.com
"I started reading this one at my desk in broad daylight and still got goose bumps." — Glamour
"Seriously spooky." — School Library Journal
"With plentiful old photographs of carnival acts, Roux works the creepy verisimilitude that made Asylum such a page-turner. The haunted-house explorations are especially cinematic and spooky...Roux knows how to keep the action rolling and the reader hooked." — Booklist