Zen and the Art of Saving the Planet (Paperback)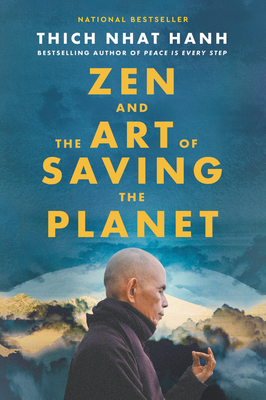 List Price: $17.99
Our Price: $15.29
(Save: $2.70 15%)
Warehouse, In Stock | Usually Ships in 1-5 Days | New
Description
---
NATIONAL BESTSELLER
"When you wake up and you see that the Earth is not just the environment, the Earth is us, you touch the nature of interbeing. And at that moment you can have real communication with the Earth… We have to wake up together. And if we wake up together, then we have a chance. Our way of living our life and planning our future has led us into this situation. And now we need to look deeply to find a way out, not only as individuals, but as a collective, a species."
-- Thich Nhat Hanh
We face a potent intersection of crises: ecological destruction, rising inequality, racial injustice, and the lasting impacts of a devastating pandemic. The situation is beyond urgent. To face these challenges, we need to find ways to strengthen our clarity, compassion, and courage to act.
Beloved Zen Master Thich Nhat Hanh is blazingly clear: there's one thing we all have the power to change, which can make all the difference, and that is our mind. Our way of looking, seeing, and thinking determines every choice we make, the everyday actions we take or avoid, how we relate to those we love or oppose, and how we react in a crisis.
Mindfulness and the radical insights of Zen meditation can give us the strength and clarity we need to help create a regenerative world in which all life is respected. Filled with Thich Nhat Hanh's inspiring meditations, Zen stories and experiences from his own activism, as well as commentary from Sister True Dedication, one of his students Zen and the Art of Saving the Planet shows us a new way of seeing and living that can bring healing and harmony to ourselves, our relationships, and the Earth.
About the Author
---
Thich Nhat Hanh was a world-renowned Buddhist Zen master, poet, author, scholar, and activist for social change, who was nominated for the Nobel Peace Prize by Dr. Martin Luther King Jr. He was the author of many bestselling books, including the classics Peace Is Every Step and The Art of Living. Through his books and retreats at the monasteries he has founded in the U.S., Europe, Asia, and Australia, he became a pre-eminent figure in contemporary Buddhism, offering teachings that are both deeply rooted in ancient wisdom and accessible to all. 
Sister Chan Khong is Thich Nhat Hanh's most senior monastic disciple and lifelong collaborator. A leading force in his engaged Buddhism programs and humanitarian projects, her books include Learning True Love and Beginning Anew.
Sister True Dedication is a former journalist and monastic Dharma Teacher ordained by Thich Nhat Hanh. 
Praise For…
---
"It can be tough to keep a positive attitude and feel hopeful. In this book, Vietnamese Buddhist monk, teacher, author, poet, and peace activist Thích Nhất Hạnh applies Buddhist wisdom to everyday life to help readers make peace with their place in the world and give them the tools to accept circumstances beyond their control." — Booklist