The Con Queen of Hollywood: The Hunt for an Evil Genius (Hardcover)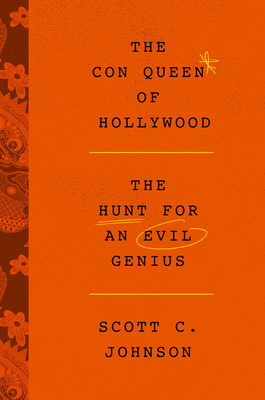 List Price: $30.00
Our Price: $25.50
(Save: $4.50 15%)
Warehouse, In Stock | Usually Ships in 1-5 Days | New
Description
---
"This book is as engrossing as anything by Agatha Christie, as unsettling as a novel by Stephen King, and reported with a vigorous empathy that leaves Truman Capote in the dust. Scott Johnson's courage, his relentless quest for the truth behind a set of brilliantly obscured cruelties, and his examination of the very fabric of psychopathy ultimately lead him to question how the appalling lies spat out by the Con Queen relate to the daily untruths required of us all. His narrative is further deepened by breathtakingly honest reportage about himself and his family, which led him to this radical investigation of a deformed mind. I cannot remember the last time I read anything with such breathless fascination."—Andrew Solomon
The spellbinding tale of an epic international manhunt for a psychopathic con artist who exploited the dreams of creators to steal dozens of identities and millions of dollars.
Blending years of deep reporting with distinctive, powerful prose, Scott C. Johnson's unique true crime narrative recounts the tale of the brilliantly cunning imposter who carved a path of financial and emotional destruction across the world. Gifted with a diabolical flair for impersonation, manipulation, and deception, the Con Queen used their skill with accents and deft psychological insight to sweep through the entertainment industry. Johnson traces the origins of this mastermind and follows the years-long investigation of a singularly determined private detective who helped deliver them to the FBI. Described by one victim as a "crazy, evil genius," the Con Queen enacted one of the most elaborate scams ever to hit Hollywood—the perfect criminal, committing the perfect crime for our time. 
But for what purpose? And with what motive? 
Johnson's unparalleled access to sources—including exclusive interviews with victims and never-before-heard recordings of the Con Queen—brought global attention to the scam, spurred law enforcement to act, and led Johnson himself to venture in search of the Con Queen. Journeying from Los Angeles to the United Kingdom to Jakarta, Johnson eventually came face-to-face with one of the most disturbing criminal minds in recent history, only to realize what chasing the Con Queen revealed about himself and his own troubled family history. 
About the Author
---
Scott C. Johnson is an award-winning investigative journalist and foreign correspondent, and the author of The Wolf and the Watchman, which was a Washington Post Notable Book. He was a foreign correspondent and war reporter for Newsweek Magazine and served as the magazine's Bureau Chief in Baghdad, Mexico City, and Cape Town. He lives in Seattle, Washington.
Praise For…
---
"Fascinating . . . . Finding out just how this scheme transpired is the big fun of Mr. Johnson's book, which folds the official investigation of "The Con Queen of Hollywood" into Mr. Johnson's own deep reporting for the Hollywood Reporter." — Wall Street Journal
"If The Con Queen of Hollywood were merely a rip-roaring international caper, it would already be deeply satisfying. But it's so much more than that: a probing of the nature of evil, in its banality and its flamboyance, as well as the moral quandaries of investigative journalism, from one of the best practitioners in the game." — Julian Sancton, New York Times bestselling author of Madhouse at the End of the Earth
"In a twist-filled new book, writer Scott C Johnson tears back the layers of deception in a story of a scammer who wreaked havoc in the film industry . . . . Riveting." — The Guardian
"Scott C. Johnson's book is a shape-shifter, morphing from true crime investigation to memoir to travelogue to an examination of mythology and linguistics and journalistic ethics . . . . And despite the thematic depths it mines, it is a rocket of a book that can and should be consumed in a headlong dash for maximum effect." — Los Angeles Times
"This portrait of one of the most creative criminal minds of the last decade is a jaw-dropping must-read." — Publishers Weekly (starred review)
"Although Johnson's obsessive investigation results in a penetrating picture of a sad, sick man, it is his portrayals of Harvey's vulnerable victims that prove more compelling. A grifter exposed in sordid detail." — Kirkus Reviews
"Gripping true-crime." — Booklist
"A chilling study of deception and evil." — Library Journal