Unbreakable: How I Turned My Depression and Anxiety into Motivation and You Can Too (Paperback)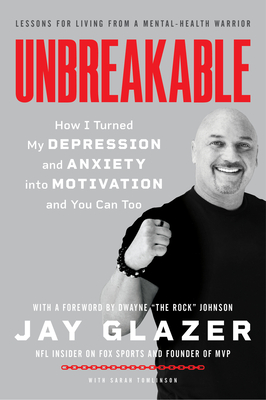 List Price: $17.99
Our Price: $15.29
(Save: $2.70 15%)
Warehouse, In Stock | Usually Ships in 1-5 Days | New
Description
---
Hey Teammate,
We all face obstacles-physical, emotional, between the ears. The good news is that everything we have fought back against can empower us, IF WE KNOW HOW TO USE IT. My obstacles happen to be anxiety and depression. I call it living in the gray, and I've been mired in it my whole life. To be honest, it sucks. But I have also recently recognized that this same gray that has held me down has also empowered me to make my wildest dreams come true. You have probably overcome many of your own obstacles, but you;ve been too close to the conflict to clearly see what you've accomplished. We are all UNBREAKABLE, no matter what we do, who we are, or what traumas we may have experienced. We just need to admit that we can't walk this walk alone.
--Jay Glazer
After years of rejection but with constant hustle, Jay Glazer has built a career has one of the most iconic sports insiders, earning himself a spot on the Emmy award-winning Fox NFL Sunday, a role as the confidant of coaches and players across the league, and a role as himself alongside Dwayne "The Rock" Johnson on HBO series Ballers. His gym, Unbreakable Performance Center, attracts some of the biggest names in Hollywood, and is the headquarters to the powerful charity MVP (Merging Vets and Players) that Jay founded in 2015.  MVP began as a weekly physical and mental health huddle with combat veterans and retired athletes has expanded to seven locations, helping soldiers and players transition to a new team.
In Unbreakable, Jay Glazer talks directly to you, his teammates, and shares his truth. All of his success from his screeching-and-swerving joy ride through professional football, the media, the fighting world, Hollywood, the military-warrior community, comes with a side of relentless depression and anxiety. Living in the gray, as Jay calls it, is just a constant for him. And, in order to work through the gray and succeed, Jay has to maintain an Unbreakable Mindset. With this book, you can too.
·        Be of Service—help others and help yourself in the process
·        Build Your Team—give support, get support
·        Never Underestimate the Power of Laughter—never take yourself too seriously
·        Be Proud of Your Scars—our trauma makes us who we are
Throughout Unbreakable, Jay will use his stories—featuring some of the biggest, baddest, and most fascinating characters in the public eye today—to show how he walks this walk, has learned that while the gray is very real, it doesn't have to define him. And it doesn't have to define you either.  
About the Author
---
Jay Glazer is a TV personality and National Football League (NFL) insider for FOX Sports' award-winning NFL pregame studio show, FOX NFL Sunday. The entire cast, including Glazer, became the first sports show inducted into the Television Hall Of Fame in 2019. He is also part of FOX's Thursday Night Football. He was one of the first ever minute by minute breaking online news reporters in the NFL, first for CBSSportsline.com in 1999, followed by FoxSports.com. 
In 2007, Glazer created the first mixed martial arts training program for pro athletes in America and has trained over 1,000 pro athletes. In 2014, he co-founded the Unbreakable Performance Center, a private training facility frequented by Wiz Khalifa, Chris Pratt, and Demi Lovato, as well as numerous NFL, NHL and MMA athletes. Glazer starred as himself in all five seasons of HBO's Ballers. In 2015, Glazer and former U.S. Army Green Beret Nate Boyer founded the charitable organization MVP (Merging Vets and Players) to assist combat veterans and former professional athletes, who often faced a tough road adjusting to civilian life. 
Praise For…
---
"Jay has always been there for me. I'm extremely grateful to have learned from someone with such great wisdom…. Jay Glazer isn't just a great friend, he's family too. He is honest, uplifting, and hilarious, and there is no shortage of those qualities in UNBREAKABLE." — Demi Lovato
"When you meet Jay Glazer, it's hard to believe that there's anything that could stop the guy. He's the ultimate insider, the consummate hustler, a fiery advocate, and a loyal friend. So it's all the more heroic how he's pushed through intense bouts of doubt, anxiety, and depression to reach such heights. We can all benefit from Jay's story, both personally and professionally. He's more than just a great head of hair…. He's UNBREAKABLE." — Guy Fieri, celebrity chef and restaurateur
"Jay Glazer is much more than the NFL insider you see on television every Sunday, he's a confidant. For many of us in the league, Jay's loyalty goes far beyond football. He's helped me personally and professionally, proving just how unbreakable he is. He has an unbreakable spirit. He has unbreakable work ethic. He is UNBREAKABLE. In a world full of adversity, his is an inspiring story of perseverance." — Mike Tomlin, head coach of the Pittsburgh Steelers
"As a former soldier and professional fighter, mental toughness is a commodity that has allowed me to thrive in a sometimes-brutal world. Finding a loyal and trusted friend to share life's amazing journey with has been difficult. Jay Glazer became that person for me. Through Jay's UNBREAKABLE, you have the opportunity to see firsthand how honesty, loyalty, hard work, and humility can help overcome any obstacle and turn personal adversity into tremendous success! Jay has sown countless seeds into the hearts of many with his openness and genuine personality. Thank you, Jay, for your amazing friendship." — Randy Couture, actor and former UFC heavyweight and light heavyweight champion, UFC Hall of Famer
"Jay Glazer has lived Unbreakable his entire life. More importantly, behind the grit and toughness is a compassionate and warm human being. Everyone who's had a chance to get to know him would repeat the same stories of trust, reliability, and loyalty. It's simply how he is wired, and I'm quite sure you'll feel that in Unbreakable." — Sean Payton, head couch of the New Orleans Saints
"As a woman, veteran, and athlete, forged by tough love, I initially underestimated just how much Jay's friendship, mentorship, and insights into mental toughness and vulnerability would shape my life. Unbreakable encourages readers to unlock their potential, lean into the uncomfortable, and stand proud of what makes them different." — Kirstie Ennis, U.S. Marine Corps sergeant and door gunner, Paralympic snowboarding athlete, first female above-the-knee amputee to summit Mount Kilimanjaro
"Jay is real, and that is what makes him great. But what's consistent about Jay is his loyalty. You can ALWAYS count on him. Unbreakable reminds me of this: Jay's can-do and will-do attitude. In a world of 'what have you done for me lately' or 'what can you do for me now,' Jay stands out as a real one." — Chuck Liddell, former UFC light heavyweight champion, UFC Hall of Famer
"Jay's a fighter, in every sense of the word. He's not only Unbreakable; he's an underdog who believes in people so much that it helps them believe in themselves. I am one of those people." — Nate Boyer, Green Beret, Bronze Star recipient, former Seattle Seahawk
"Jay Glazer helps people look forward and know that it's okay to be different, because we all are. Unbreakable is inspiring and motivational. It teaches people that the phrase 'I got your back' is for always, and that you are never alone." — Royce Gracie, first-ever UFC champion, UFC Hall of Famer, and Gracie Jiu-Jitsu practitioner
"Jay has always had an unmatched passion and desire to help others, but as Jay's friend and business partner, what has been so amazing is witnessing his personal growth. In Unbreakable, his ability to help others has been elevated to a whole new level." — Lindsey Berg, two-time captain of the U.S. Women's Olympic Volleyball team, and two-time silver medalist
"This book is one of the most meaningful books I've ever read. It's raw and real, coupled with compelling writing and entertaining moments. Like Jay Glazer, Unbreakable is also one of a kind. Read it and become Unbreakable!" — Jon Gordon, twelve-time bestselling author of twenty-four books, including The Energy Bus
"Jay Glazer sits at the intersection of authenticity and heart in everything he does. Jay has impacted many lives with his genuine vulnerability and grit, creating a space of belonging for those around him. Unbreakable is no different, offering an impassioned invitation to be and to own your own unique self with everything you do." — Kami Craig, two-time Olympic gold medalist in water polo
"From the day I met Jay Glazer, I recognized his ability to turn scars into superpowers. He is an inspiring example of a kind character who sets an example of wearing one's adversities like badges of honor and embracing one's vulnerability as a signature of human courage. Unbreakable proves this fantastically." — Hayley Paige, famed wedding gown designer