The Anxious Investor: Mastering the Mental Game of Investing (Hardcover)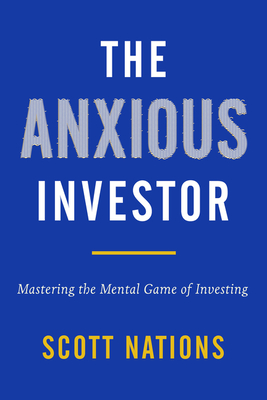 List Price: $28.99
Our Price: $24.64
(Save: $4.35 15%)
Warehouse, In Stock | Usually Ships in 1-5 Days | New
Description
---
A revelatory new guide to becoming a smarter investor, drawing upon behavioral psychology, economic modeling, and market history to offer practical advice for reaching your financial goals
"With the equity and fixed-income markets off to a rough start in 2022, investors might do well to review the lessons shared in Mr. Nations's book." —Wall Street Journal
The human brain is ill-suited to making wise investment decisions. We are overconfident in our own knowledge and hunches, terrible at assessing risk, and prone to chasing financial thrills rather than measured long-term goals. Making matters worse, periods of severe market turbulence—whether the dotcom bubble of the late 90's, the Great Recession a decade later, or the brief, vertiginous COVID crash of 2020—bring out our most irrational selves, at the exact moment when the consequences for investment mistakes are most severe.
Scott Nations has spent his career studying market volatility. His firm, Nations Indexes, is the world's leading independent developer of volatility and option-enhanced indexes. In The Anxious Investor, he teaches readers how to understand markets, master their own fear, and make the most of their money. Drawing upon cutting-edge research in behavioral psychology, Nations shows that the secrets to excellent investing lie in mastering the quirks of human psychology. How are some investors able to make prudent decisions under pressure, while others rely on gut instinct to disastrous effect? How can we prepare for a market crash before it happens? And what can help us stay the course when the waters get choppy? Using the stories of three infamous market bubbles as his backdrop, Nations offers readers history's hard-earned lessons about greed, volatility, and value.
Whether you're saving for retirement, a home, or a child's college education, The Anxious Investor offers a blueprint for achieving your goals. While we can never know exactly which financial surprises may loom ahead, here is an indispensable resource for investors to make sense of them.
About the Author
---
Scott Nations is the president of NationsShares, a financial engineering firm. He is a regular contributor to CNBC, where he frequently appears on-air to discuss markets, derivatives, and other investment topics. He is the author of two technical books for option traders, Options Math for Traders and The Complete Book of Option Spreads and Combinations. He lives in Chicago, Illinois.
Praise For…
---
"[Nations] has studied the math and history of market volatility, and his new book focuses on the psychology that drives it. ... The Anxious Investor weaves the latest behavioral finance studies into an engaging narrative history. ... Investors might do well to review the lessons shared in Mr. Nations's book—and to try to conquer the anxiety that volatility can create even for the most seasoned and thoughtful financiers." — Wall Street Journal
"I often say that fear, greed, hope, and ignorance are the four horsemen of the investment apocalypse, and note, only one is not an emotion. Emotional decisions may be made in the heat of a market meltdown, but also when markets are seemingly going to the moon. In The Anxious Investor, Scott Nations offers a close look at why these emotions are so destructive to your investment goals and offers a checklist of these emotional biases to help the reader understand and avoid them. The next time the market gets crazy, having this book by your side may help you overcome those four horsemen and stick with your long-term objectives." — JIM O'SHAUGHNESSY, New York Times Bestselling Author of What Works on Wall Street
"Financial instruments and technology have evolved since the first market bubble in 1720, but across three-hundred years of manias and panics one aspect of markets remains unchanged: human nature. Through fascinating case studies, Scott Nations reveals why investors repeatedly succumb to the same behavioral shortcomings, and how to avoid them when times get tough. Nations' entertaining and educational style makes this book accessible for all investors interested in the psychology of markets." — JAMIE CATHERWOOD, "The Finance History Guy"
"It's been remarked that if you don't know who you are, the stock market is an expensive place to find out. With his new book, Scott Nations explains why mastering your own mental state is the most critical variable of all." — JOSHUA BROWN, CEO of Ritholtz Wealth Management and CNBC Contributor
"Nations's advice is grounded and practical, and the wealth of research backing it will leave readers feeling like they're in good hands. New and seasoned investors alike will find this worth a look." — Publishers Weekly