My People: Five Decades of Writing About Black Lives (Paperback)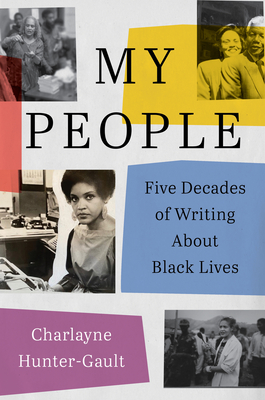 List Price: $21.99
Our Price: $18.69
(Save: $3.30 15%)
Warehouse, In Stock | Usually Ships in 1-5 Days | New
Description
---
"Charlayne Hunter-Gault is an eminent Dean of American journalism, a vital voice whose work chronicled the civil rights movement and so much of what has transpired since then. My People is the definitive collection of her reportage and commentary. Spanning datelines in the American South, South Africa and points scattered in between, her work constitutes a history of our time as rendered by the pen of a singular and indispensable black woman journalist."-Jelani Cobb
From the legendary Emmy Award-winning journalist, a collection of ground-breaking reportage from across five decades which vividly chronicles the experience of Black life in America today.
At just nineteen years old, Charlayne Hunter-Gault made national news after she had mounted a successful legal challenge that culminated in her admission to the University of Georgia in January 1961—making her one of the first two Black students to integrate the institution. As an adult, Charlayne switched from being the subject of news to covering it, becoming one of its most recognized and acclaimed interpreters.
Over more than five decades, this dedicated reporter charted a course through some of the world's most respected journalistic institutions, including The New Yorker, NBC, and the New York Times, where she was often the only Black woman in the newsroom. Throughout her storied career, Charlayne has chronicled the lives of Black people in America—shining a light on their experiences and giving a glimpse into their community as never before. Though she has covered numerous topics and events, observed as a whole, her work reveals the evolving issues at the forefront of Black Americans lives and how many of the same issues continue to persist today.
My People showcases Charlayne's lifelong commitment to reporting on Black people in their totality, "in ways that are recognizable to themselves." Spanning from the Civil Rights Movement through the election and inauguration of America's first Black president and beyond, this invaluable collection shows the breadth and nuance of the Black experience through trials, tragedies, and triumphs of everyday lives.
About the Author
---
Charlayne Hunter-Gault is an Emmy and Peabody award -winning journalist. She began her career at The New Yorker, becoming the first Black reporter for the Talk of the Town section, then as a special correspondent and anchor at NBC in D.C., after which she joined the New York Times, where she established the Harlem Bureau, the first of its kind. She eventually joined PBS NewsHour as its first substitute anchor and national correspondent. The author of four previous books, Hunter-Gault lives in Florida and on Martha's Vineyard.
Praise For…
---
"A wonderful showcase of the work of an invaluable 20th-century journalist." — Kirkus, starred review
"Charlayne Hunter-Gault is a hero of the Civil Rights movement and a brave and glorious writer. In the cause of humanity and clear-eyed reporting, she has always held the banner high." — David Remnick
"Charlayne Hunter-Gault is an eminent Dean of American journalism, a vital voice whose work chronicled the civil rights movement and so much of what has transpired since then. My People is the definitive collection of her reportage and commentary. Spanning datelines in the American South, South Africa and points scattered in between, her work constitutes a history of our time as rendered by the pen of a singular and indispensable black woman journalist." — Jelani Cobb
"Charlayne Hunter-Gault is the quintessential eye-witness to the riveting events and fascinating characters of the last half-century's racial reckoning. In this invaluable collection—informative, vivid, bracing and humane—she reveals the distance traveled and the hard road yet ahead." — Geraldine Brooks
"Since climbing the marble steps to her first class at UGA, which she integrated in 1961, Charlayne Hunter-Gault has been a front-row observer and reporter of racial turbulence around the world. The pages in this book are a study in Black history—and reiterate her lasting impact on society. Charlayne has the innate ability to make connections, lift voices, and make every one of us—no matter our race, color, creed, or religion—feel that we will break through, together, one day." — Heather Dunhill, Sarasota Magazine
"Charlayne Hunter-Gault is an absolute gift to this world. She's one of those unsung female heroines who bravely helped change the landscape in the worlds of civil rights and education. I was able to attend the University of Georgia and pursue a journalism career because of her sacrifice. What an eye opening experience to read her gripping new book, My People, and to fully understand her journey of struggle and triumph. Thank you Charlayne for staying in the fight even when it felt dangerous and uncertain . . . and for eventually claiming your purpose and your joy! I stand on your shoulders as do so many others." — Deborah Johnson, ABC News Senior National Affairs Correspondent
"Charlayne Hunter-Gault has masterfully weaved together her decades of bearing witness to the experiences of Black people in America and around the globe. Detailing the realities and challenges of those ranging from the everyday person to global icons, her clear and incisive words speak to both the head and the heart.  Despite the struggles that she so adeptly and compassionately describes, her historic perspective leaves you with a sense of optimism that is her trademark and that is needed as much now as ever." — Helene D. Gayle, MD, MPH President, Spelman College
" A fascinating record of the evolution of modern Black life." — Atlanta Journal-Constitution
"Pathblazing journalist Charlayne Hunter-Gault has gifted us this collection of some of her most essential pieces, illustrating the beauty, variety and nuance of the Black experience over five decades." — Ms. magazine
"[A] powerhouse collection. . . . Whether covering the TV show Black-ish or politics in South Africa, Hunter-Gault employs razor-sharp thinking and a keen journalistic eye. This solidifies her status as one of the greats." — Publishers Weekly, starred review
"This collection compounds Hunter-Gault's impact by delivering a version of American history that is complex in its backward and forward glimpses and that reinforces the enduring need for telling old stories, so readers can relearn what they should have gotten right decades ago. Hunter-Gault's book makes it easy to revisit difficult historical moments and envision better choices, better outcomes, and better futures." — Library Journal, starred review
"An inspirational collection and a must-read." — Booklist, starred review