Side Notes from the Archivist: Poems (Paperback)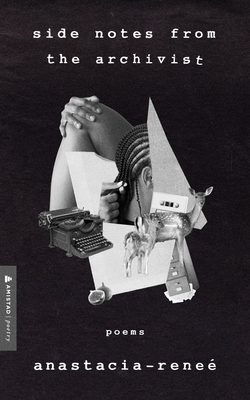 List Price: $16.99
Our Price: $14.44
(Save: $2.55 15%)
Warehouse, In Stock | Usually Ships in 1-5 Days | New
Description
---
The award-winning, genre-crossing writer demonstrates her power as a funkadelic and formidable feminist voice in this rich and beautiful collection of verse and image—a multi-part retrospective that traverses time, space, and reality to illuminate the expansiveness of Black femme lives.
Side Notes from the Archivist is a preservation of Black culture viewed through a feminist lens. The Archivist leads readers through poems that epitomize youthful renditions of a Black girl coming of age in Philadelphia's pre-funk '80s; episodic adventures of "the Black Girl" whose life is depicted through the white gaze; and selections of verse evincing affection for self and testimony to the magnificence within Black femme culture at-large.
Every poem in Side Notes elevates and honestly illustrates the buoyancy of Blackness and the calamity of Black lives on earth. In her uniquely embracing and experimental style, Anastacia-Reneé documents these truths as celebrations of diverse subjects, from Solid Gold to halal hotdogs; as homages and reflections on iconic images, from Marsha P. Johnson to Aunt Jemima; and as critiques of systemic oppression forcing some to countdown their last heartbeat.
From internet "Fame" to the toxicity of the white gaze, Side Notes from the Archivist cements Anastacia-Reneé role as a leading light in the womanist movement—an artist whose work is in conversation with advocates of Black culture and thought such as Audre Lorde, Amiri Baraka, and Nikki Giovanni.
About the Author
---
Anastacia-Reneé is an award-winning cross-genre writer, educator, interdisciplinary artist, TEDx speaker, and podcaster. She is the author of (v.), Forget It, and Answer(Me), and her work has been anthologized in a number of literary outlets, including Furious Flower: Seeding the Future of African American Poetry, Spirited Stone, Lessons from Kubotas Garden, Seismic, Seattle City of Literature, Foglifter, Cascadia Magazine, Pinwheel, The Fight and the Fiddle, Glow, The A-Line, Ms. Magazine, Spark, Obsidian Literature and Arts in the African Diaspora, Crab Creek Review, Alta, and Catapult. She and has received fellowships and residencies from Cave Canem, Hedgebrook, VONA, Artist Trust, Jack Straw, Ragdale, Mineral School, Hypatia in the Woods, and the New Orleans Writers Residency. She lives in Seattle, Washington.
Praise For…
---
Casting a sharp side-eye at the past with urgent syntax that rockets a reader forward, Anastacia-Reneé's newest collection is a trenchant critique of US American f#@ckeries. This is a communal book in which unruly voices account for the dead; there are far too many to remember and more coming soon. Side Notes From the Archivist moves the margins to the center, retroactively claiming space and meaning to hold it into whatever future there is. — —Douglas Kearney,author of Sho and The Black Automaton
"What a heavy load to carry and present memory as archivist. But memory is the original archivist. These memories do the labor of dating, storing and preserving objects of queer-ness, girl into woman and hood-ness within temperatures that center their integrity. Anastacia is a poetry-teller. A raw griot. The duty of a griot is to become a body for memories. And with this collection of work, Anastacia has showed up ready for duty." — —Avery Young, author of neckbone: visual verses