A Spy Like Me: Six days. Three agents. One chance to find James Bond. (Double O #2) (Hardcover)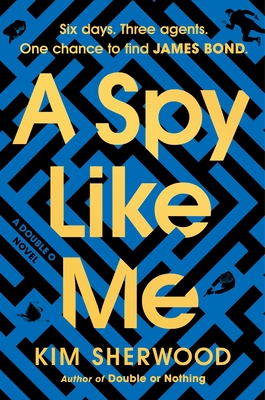 List Price: $30.00
Our Price: $25.50
(Save: $4.50 15%)
Coming Soon - Available for Pre-Order Now
Other Books in Series
This is book number 2 in the Double O series.
Description
---
An elite team of MI6 agents must go undercover to unravel a smuggling network funding violent terror in the second thrilling adventure in the acclaimed Double O series by Kim Sherwood.
James Bond is alive.
Or at least, he was when he left a clue at the black site where the insidious private military company Rattenfänger held him captive. MI6 cannot spare any more lives attempting to track down one missing agent—no exceptions, even for Bond. But Johanna Harwood, 003, has her own agenda. Sidelined by her superiors while she grieves the loss of a loved one, Harwood goes on an unsanctioned mission: to find 007. Meanwhile, MI6 has another problem…
A bomb has detonated in London.
Double O agents on the trail of the terrorists responsible acted quickly to prevent mass destruction and save lives. But MI6 failed to neutralize the nation's enemies before they could strike, and one of their own was seriously injured in the blast.
They won't fail again.
Assigned to root out the source of the terrorists' funding, Joseph Dryden, 004, and Conrad Harthrop-Vane, 000, enter the field. Tracing clues from Sotheby's auction house to Crete to Venice, they uncover a money laundering scheme involving diamonds, black market antiquities, and human trafficking. Once a major sale is made, a six-day countdown to the next terror attack begins. As the Double O's follow the twisting trail, they find themselves unexpectedly inching closer to Bond…
About the Author
---
Kim Sherwood is a novelist and a Lecturer in Creative Writing at the University of Edinburgh. Her award-winning debut novel Testament was released in 2018, and in 2019, Kim was shortlisted for the Sunday Times Young Writer of the Year Award. Her latest novel, A Wild & True Relation, was described by Dame Hilary Mantel as "a rarity – a novel as remarkable for the vigour of the storytelling as for its literary ambition. Kim Sherwood is a writer of capacity, potency and sophistication." Double or Nothing is the first in an acclaimed series of Double O novels expanding the world of James Bond.
Praise For…
---
"I spy . . . a brilliant thriller! Double or Nothing is a clever and utterly compelling addition to the Bond canon. Filled with characters so real we feel we know them, the novel races through its surprising plot twists like an Aston Martin in high gear. Get this book and clear your calendar—though it won't be for long; I read it in one sitting."  — Jeffery Deaver, author of Carte Blanche, a James Bond novel
"More than an addition to the [Bond] canon, Double or Nothing is an expansion of the universe, and an exploration of how the Bond archetype can be channeled into other characters. . . In this subtle but refreshing way, Sherwood manages to shift the perspective. . . What if Bond were Black? What if Bond were a woman? Would that change anything about the essential Bond-ness of Bond? And if not, then what are we waiting for?" — Washington Post
"[Double or Nothing] delivers a thrilling experience on various levels, both honoring tradition and pushing forward into uncharted territory. It promises to offer greater diversity across a new generation of superspies; updates to familiar characters and elements; and a bit of contemporary thematic urgency . . . Sherwood, acutely aware of the traditions she's working within, knows how to call out the usual and re-energize it . . . I've got my eye eagerly on Sherwood's second Double O book, thrilled by what she's accomplished in Double or Nothing and ready to follow her wherever she goes next." — Washington Independent Review of Books
"There are plenty of things in this outstanding thriller that will be familiar to Bond fans, while at the same time Sherwood introduces some new elements that make the environment feel fresh and just a little bit different. . . It's the first of a projected trilogy, and volume two cannot come soon enough." — Booklist on Double or Nothing
"This entertaining James Bond pastiche, the authorized first in a projected trilogy, from British author Sherwood (Testament) introduces a diverse team of new 00 agents. . . [A] refreshing update on the venerable franchise. . .Readers will be curious to see what's next for her team in book two." — Publishers Weekly on Double or Nothing
"Blistering, breakneck, brilliant. Sherwood's first Double O novel delivers everything you could want and more from a high-octane, high-stakes spy thriller. The world of Bond is in expert hands."  — Tim Glister, author of Red Corona
"Stylish, explosive, fresh and fun, Kim Sherwood takes one of the world's most beloved series and makes it her own. Faithful, yet entirely original, Double or Nothing is everything you could want in a spy novel." — Chris Whitaker, author of We Begin at the End
"Bang up to date and action-packed, Kim Sherwood has taken the world of James Bond and turned it on its head."  — Charles Cumming, author of Box 88
"A cleverly plotted and absorbing novel with a fantastic cast of fully rounded characters in this breathtaking new novel. I loved it."  — Lisa Ballantyne, author of The Innocent One