Ink Blood Sister Scribe: A Good Morning America Book Club Pick (Hardcover)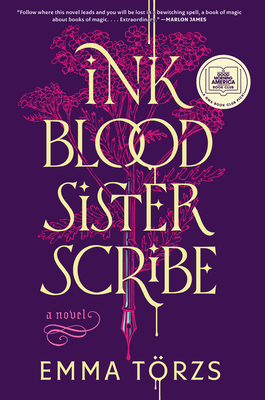 List Price: $30.00
Our Price: $25.50
(Save: $4.50 15%)
Warehouse, In Stock | Usually Ships in 1-5 Days | New
June 2023 Indie Next List
---
"There is magic of all kinds on each page of Ink Blood Sister Scribe: grisly body horror magic; romantic, confectionary fairy tale magic; and the binding, consuming magic of family and what it means to belong. I am still under its spell!"
— Sarah Jackson, The Book & Cover, Chattanooga, TN
Description
---
A New York Times Notable Book of the Year • A Good Morning America Book Club Pick
"Astonishing and pristine, the kind of debut I love to be devastated by, already so assured and sophisticated that it's difficult to imagine where the author can go from here. . . . It's simply a delight from start to finish." – AMAL EL-MOHTAR, New York Times Book Review 
"Follow where this novel leads and you will be lost in a bewitching spell, a book of magic about books of magic . . . extraordinary." – MARLON JAMES
In this spellbinding debut novel, two estranged half-sisters tasked with guarding their family's library of magical books must work together to unravel a deadly secret at the heart of their collection—a tale of familial loyalty and betrayal, and the pursuit of magic and power.
For generations, the Kalotay family has guarded a collection of ancient and rare books. Books that let a person walk through walls or manipulate the elements—books of magic that half-sisters Joanna and Esther have been raised to revere and protect.
All magic comes with a price, though, and for years the sisters have been separated. Esther has fled to a remote base in Antarctica to escape the fate that killed her own mother, and Joanna's isolated herself in their family home in Vermont, devoting her life to the study of these cherished volumes. But after their father dies suddenly while reading a book Joanna has never seen before, the sisters must reunite to preserve their family legacy. In the process, they'll uncover a world of magic far bigger and more dangerous than they ever imagined, and all the secrets their parents kept hidden; secrets that span centuries, continents, and even other libraries . . .
In the great tradition of Ninth House, The Magicians, and Practical Magic, this is a suspenseful and richly atmospheric novel that draws readers into a vast world filled with mystery and magic, romance, and intrigue—and marks the debut of an extraordinary new voice in speculative fiction.
"Ink Blood Sister Scribe is so many things at once: an adventure, a puzzle, a twisty thriller, and a tender romance. . . . I adored it." – ALIX E. HARROW
"If, like me, you're a fan of Holly Black and Leigh Bardugo, pick up this book at once." — KELLY LINK 
About the Author
---
Emma Törzs is a writer, teacher, and occasional translator based in Minneapolis, Minnesota. Her fiction has been honored with an NEA fellowship in prose, a World Fantasy Award for Short Fiction, and an O. Henry Prize. Her stories have been published in journals such as Ploughshares, Uncanny Magazine, Strange Horizons, and American Short Fiction. She received her MFA from the University of Montana, Missoula, and is an enthusiastic member of the Clarion West class of 2017.
Praise For…
---
"Astonishing and pristine, the kind of debut I love to be devastated by, already so assured and sophisticated that it's difficult to imagine where the author can go from here. . . . Ink Blood Sister Scribe accelerates like a fugue, ably conducted to a tender conclusion. It's simply a delight from start to finish."  — Amal El-Mohtar, New York Times Book Review 
"Confident, compassionate, and incredibly engrossing, Ink Blood Sister Scribe grabbed me with its first pages and put me completely under its spell. . . .Elements of many different genres entwine to form the cleverly paced narrative as we travel from Antarctic station thriller to New England murder mystery to the secret society intrigues of Europe's magical elite. The characters are all delightfully warm in their own weird ways . . . and the plot zigs and zags along with just the right amount of twists and reveals. Ink Blood Sister Scribe stands out as a stellar and original debut novel." — Caitlyn Paxson, NPR, 5 New Fantasy Novels Invigorate Old Tropes
"Get ready to fall under Emma Törzs' spell!"  — Entertainment Weekly, 27 best new books to take on your 2023 summer vacation
"Downright irresistible. . . . keeps the surprises and twists coming. . . . Through it all, Törzs stays grounded in her characters' emotional lives, including their tangled family relationships but also their love for the books in their care. By the end you'll gladly follow these people anywhere." — Charlie Jane Anders, The Washington Post
"Follow where this novel leads and you will be lost in a bewitching spell, a book of magic about books of magic, and the people who reel from reading them. Go beyond the magic and you're left with a heartbreaking tale of family where truth blurs with lies, and blood isn't thick enough. A bold, new novel from an extraordinary new voice."
— Marlon James, New York Times bestselling author of Black Leopard, Red Wolf

"If Olivie Blake's The Atlas Six seduced you with its library of ancient secrets, if you swooned over Deborah Harkness' enchanted manuscript in A Discovery of Witches, then let me introduce you to Minnesota author Emma Törzs' Ink Blood Sister Scribe, an enthralling fantasy debut about magic and books. Törzs' spellbinding story (literally, read on) is about half-sisters Joanna and Esther Kalotay and their family's hidden collection of supernatural books . . . It's magic."  — The Star Tribune
"Ink Blood Sister Scribe is so many things at once: an adventure, a puzzle, a twisty thriller, and a tender romance. It's a magical book about the magic of books; I adored it."  — Alix E. Harrow, New York Times bestselling author of The Once and Future Witches 
"A twisty and thrilling fantasy in which both the magic and the characters have real complexity, real shadows. If, like me, you're a fan of Holly Black and Leigh Bardugo, pick up this book at once." — Kelly Link, bestselling author of Get in Trouble
"A delight from start to finish. Part caper, part love letter to books, with a slice of gothic creepiness, it was just the read I needed." — Chloe Benjamin, New York Times bestselling author of The Immortalists
"Ink Blood Sister Scribe is itself a magical book, brimming with all the elements that make a story sing—an engrossing plot, characters that steal your heart and make you laugh out loud, and a compelling energy that reveals a true storyteller at work. What a gorgeously satisfying read."
— Lesley Nneka Arimah, award-winning author of What It Means When a Man Falls from the Sky

"A fierce story of secrets, enchantment, and family both born and built, Ink Blood Sister Scribe left me more spellbound with each turning page. These characters will steal your heart—and perhaps, your blood. Törzs has conjured true magic." — GennaRose Nethercott, author of Thistlefoot
"The best kind of books do not simply expand our world, they let in light from new ones. Törzs's spellbinding Ink Blood Sister Scribe embodies that completely. Chilling and charming in equal parts, Törzs's debut is a love letter to stories everywhere." — Roshani Chokshi, New York Times bestselling author of The Last Tale of the Flower Bride
"[An] intensely well-plotted and twisty magical adventure." — Paste Magazine, The Best New Fantasy Books
"Törzs's debut novel features a wonderfully realized and atmospheric world and a plot filled with unexpected twists… Törzs does a fantastic job creating a gripping and suspenseful story that keeps readers on their toes and wanting more. Fans of The Ninth House by Leigh Bardugo and The Night Circus by Erin Morgenstern will love this magic- and suspense-filled novel."  — Library Journal, The Best Fantasy Books of the Year (So Far)
"You have to make room for this debut novel . . . It has everything we want in summer reads — old houses, hidden staircases, messages (and corpses) sent through mirrors, likable characters, secrets that go back centuries, scribes who literally gave their lives to write magic into their books, and questions of how far family loyalty should go. . . . This luminous and scary book can be summarized, but it has to be read to appreciate the author's writing." — St. Paul Pioneer Press
"Bewitching . . . Törzs pulls off such an expert series of twists that readers would be advised to cancel their plans until they get to the end. A fantastic magical adventure, not to be missed."
— Kirkus (starred review)
"Exceptional . . . This suspenseful dark fantasy, full of family drama, is perfect for readers of Leigh Bardugo's Ninth House, Holly Black's Book of Night, and Peng Shepherd's The Cartographers." — Booklist (starred review)
"Törzs's debut novel features a wonderfully realized and atmospheric world and a plot filled with unexpected twists. . . . Törzs does a fantastic job creating a gripping and suspenseful story that keeps readers on their toes and wanting more. Fans of The Ninth House by Leigh Bardugo and The Night Circus by Erin Morgenstern will love this magic- and suspense-filled novel."
— Library Journal (starred review)
"Spellbinding . . . Unraveling the twisty mysteries that connect Nicholas to the Kalotay sisters and dismantling the dark constraints on their lives keep both characters and readers guessing throughout. Meanwhile, threads of hope and love keep the grimly gorgeous worldbuilding from growing too dark. Törzs's lyrical, idiosyncratic prose (at one point, the sky is described as 'so pale it seemed infected') elevates proceedings. This is a must-read." — Publishers Weekly (starred review)
"Confident and powerful . . . An enchanting book about enchanted books." — Bustle, The Most Anticipated Books Of Spring & Summer 2023
"Atmospheric suspense and old-school mystery twists." — Goodreads, Readers' 54 Most Anticipated Books of Summer
"Secret libraries and mysterious portals, deadly jeopardy and blood magic… no boxes go unticked in this fabulous page-turner, a searing debut about two sisters with very different powers.... Much rests on the disciplined goriness of the rituals, but it's the emotional twists that hold us spellbound as the action takes us to Antarctica, Vermont, Manhattan and an English country mansion — invisible of course."  — The Daily Mail (UK)
"This debut novel is an absolute delight, weaving a convincing occult underground into real-world settings, with engaging characters and a compelling storyline sure to make it a lasting favourite with fantasy readers of all stripes." — The Guardian (UK)