You Will Own Nothing: Your War with a New Financial World Order and How to Fight Back (Hardcover)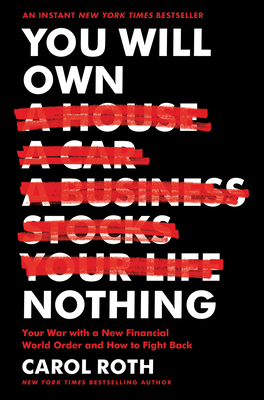 List Price: $32.00
Our Price: $27.20
(Save: $4.80 15%)
Warehouse, In Stock | Usually Ships in 1-5 Days | New
Description
---
AN INSTANT NEW YORK TIMES BESTSELLER
A NEXT BIG IDEA CLUB MUST-READ
The bestselling author and entrepreneur investigates what would happen if a new financial world order took hold, one in which global elites own everything and you own nothing—and yet you are somehow happy.
When Carol Roth first heard that one of the World Economic Forum's predictions for 2030 was "You will own nothing, and be happy," she thought it was an outlandish fantasy. Then, she researched it. What she found was that a number of businesses, governments, and global elites share a vision of a future that sounds utopian: Everyone will have everything they need, and no one will own anything.
From declines in home and vehicle ownership to global inflation and government spending, many of the trends of modern life reveal that a new world that is emerging—one in which Western citizens, by choice or by circumstance, increasingly do not own possessions or accumulate wealth. It's the perfect economic environment for the rich and powerful to solidify their positions and prevent anyone else from getting ahead.
In You Will Own Nothing¸ Roth reveals how the agendas of Wall Street, world governments, international organizations, socialist activists, and multinational corporations like Blackrock all work together to reduce the power of the dollar and prevent millions of Americans from taking control of their wealth. She shows why owning fewer assets makes you poorer and less free. This book is essential guide to protecting your hard-earned wealth for the coming generations.
About the Author
---
Carol Roth is a "recovering" investment banker, an entrepreneur, a TV pundit and host, and a New York Times bestselling author. Her books include The Entrepreneur Equation and The War on Small Business. Carol has worked in a variety of capacities across many industries, including currently as an outsourced CCO, as a director on public and private company boards, as a strategic advisor and C-level consigliere. She advocates for small business, small government, and big hair.
Praise For…
---
"When Wall Street, world governments, and radical activists join forces in the name of 'saving the planet,' there can only be one goal: they get richer, while everyone else gets poorer. You Will Own Nothing is a well-researched and well-written wakeup call to everyone who wants to make sure that this does not happen." — MICHAEL SHELLENBERGER, founder and president of Environmental Progress and bestselling author of San Fransicko and Apocalypse Never
"If you don't want to lose everything, own nothing, and live on a diet of bugs, then buy Carol Roth's You Will Own Nothing—your battle plan for surviving the war with the new financial world order." — DANA LOESCH, host of the nationally syndicated Dana Show and bestselling author
"When it comes to who really rules the world and what kind of future they are shaping for the rest of us, so many things whispered and dismissed over the years have come into clear and undeniable focus. It's not enough to know what's happening and simply complain. Carol has laid out a plan for how to fight back and win." — CHARLES PAYNE, CEO of Wall Street Strategies and television anchor