All about Low Volatility Investing (Paperback)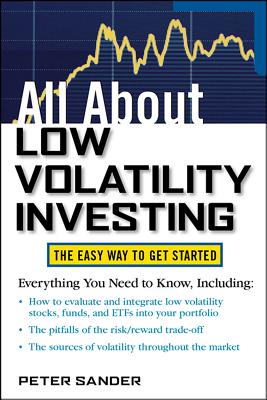 List Price: $22.00
Our Price: $20.90
(Save: $1.10 5%)
Description
---
YOU DON'T HAVE TO TAKE HUGE RISKS TO INVEST SUCCESSFULLY
Low volatility investing has been proven to outperform higher risk, volatile growth stock trading and investing over time. In today's markets, this is exactly what you need to consistently draw returns beyond the risk-free rate--and sleep well at night because you're not worried about your investments
Written in a clear, entertaining style, All About Low Volatility Investing provides a firm foundation on volatility in markets and reveals the knowledge you need to make it work for you instead of against you. This one-stop guide describes:
What volatility is, and how it is measured and applied
Specific ways to appraise low volatility investments
Methods for creating a low volatility portfolio
How to mix stocks, bonds, real estate, commodities, currencies, funds, and more
About the Author
---
PETER SANDER is a professional author, researcher, and consultant in the fields of business and personal finance. He has written 39 books including Value Investing for Dummies, The 100 Best Stocks You Can Buy, The 25 Habits of Highly Successful Investors, and What Would Steve Jobs Do, and numerous columns on personal finance and investing strategies. He lives in Granite Bay, CA.