Financial Accounting (Loose Leaf)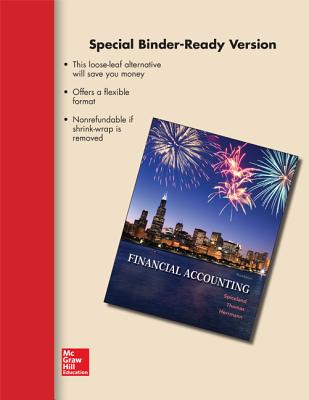 $424.93
This item is backordered and not currently available. Please contact us for an estimated availability date.
Description
---
The financial accounting course is taken by all business majors, usually in their sophomore year. Financial accounting reports summarize the financial health, operating results, and changes in financial status for a business as viewed over a specific period of time. This information is used by outside parties such as stockholders, creditors, prospective investors, regulatory agencies, and the general public. The financial accounting market can be segmented into three categories: preparer (traditional), balanced, and user (innovative). Spiceland/Thomas/Herrmann falls into the balanced segment by offering a balance between the user and preparer orientation. The decision maker's perspective used throughout the book competes directly with Kimmel's pedagogical approach. Financial Accounting has been revised based on the great success of Financial Accounting 2e, Spiceland, Thomas, Herrmann. The content was developed with feedback from over 480 reviewers and focus group participants from across the country. The authors, David Spiceland, Wayne Thomas and Don Herrmann, have developed a unique text based on over 50 collective years of experience in the classroom. They've brought together best practices like highlighting Common Mistakes, offering frequent Let's Review exercises, integrating the course with a running Continuing Problem, demonstrating the relevance of the course to non-majors with a Career Corner, and communicating it all in a student-friendly Conversational Writing Style.