Work and Other Sins: Life in New York City and Thereabouts (Paperback)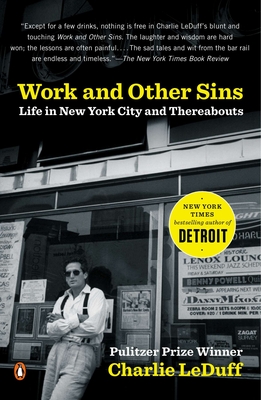 List Price: $18.00
Our Price: $17.10
(Save: $0.90 5%)
Description
---
From the New York Times bestselling author of Detroit: An American Autopsy

"Except for a few drinks, nothing is free in Charlie LeDuff's blunt and touching Work and Other Sins. The laughter and wisdom are hard won, the lessons are often painful... the sad tales and wit from the bar rail are endless and timeless." --The New York Times Book Review

Charlie LeDuff is that rare breed of news reporter—one who can cover hard-to-get-at stories in a unique and deeply personal style. In Work and Other Sins, he gives his incomparable take on New York City and its denizens—the bars, the workingmen, the gamblers, the eccentrics, the lonesome, and the wise. Whether writing about a racetrack gambler, a firefighter with a broken heart, or a pair of bickering brothers and their Coney Island bar, LeDuff takes the reader into the lives of his subjects to explore their fears, faults, and fantasies as well as their own small niches of the globe. The result is an at turns riotous, dirt-under-the-nails, contemplative, salty, joyous, whiskey-tinged, and utterly unique vision of life in the Big Apple.
About the Author
---
CHARLIE LEDUFF was a staff writer at the New York Times and a reporter at the Detroit News, and is now a television journalist for Detroit's Fox 2 News. He contributed to a Pulitzer Prize–winning New York Times series and has received a Meyer Berger Award for distinguished writing about New York City. He is the author of Work and Other Sins, US Guys, and the New York Times bestselling Detroit: An American Autopsy. LeDuff lives with his wife and daughter on the edge of the Detroit city limits.
Praise For…
---
"Blunt and touching... Rendered with respect and the style of a cardsharp." —
The New York Times Book Review
"[This] extraordinary collection of profiles is an ode to the regular Joe." —Entertainment Weekly
"LeDuff has a knack for prying smoky poetry, bleak humor, and heart-on-the-sleeve drama from the denizens of New York's various underbellies." —Men's Journal