Burning Down the House: Newt Gingrich and the Rise of the New Republican Party (Paperback)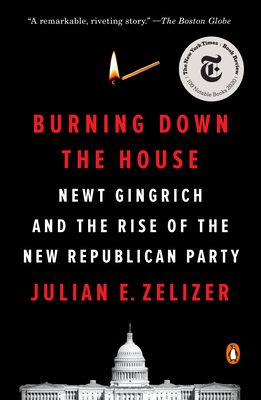 List Price: $18.00
Our Price: $15.30
(Save: $2.70 15%)
Description
---
A New York Times Notable Book!

A New York Times Book Review Editors' Choice

The story of how Newt Gingrich and his allies tainted American politics, launching an enduring era of brutal partisan warfare

When Donald Trump was elected president in 2016, President Obama observed that Trump "is not an outlier; he is a culmination, a logical conclusion of the rhetoric and tactics of the Republican Party." In Burning Down the House, historian Julian Zelizer pinpoints the moment when our country was set on a path toward an era of bitterly partisan and ruthless politics, an era that was ignited by Newt Gingrich and his allies. In 1989, Gingrich brought down Democratic Speaker of the House Jim Wright and catapulted himself into the national spotlight. Perhaps more than any other politician, Gingrich introduced the rhetoric and tactics that have shaped Congress and the Republican Party for the last three decades. Elected to Congress in 1978, Gingrich quickly became one of the most powerful figures in America not through innovative ideas or charisma, but through a calculated campaign of attacks against political opponents, casting himself as a savior in a fight of good versus evil. Taking office in the post-Watergate era, he weaponized the good government reforms newly introduced to fight corruption, wielding the rules in ways that shocked the legislators who had created them. His crusade against Democrats culminated in the plot to destroy the political career of Speaker Wright.

While some of Gingrich's fellow Republicans were disturbed by the viciousness of his attacks, party leaders enjoyed his successes so much that they did little collectively to stand in his way. Democrats, for their part, were alarmed, but did not want to sink to his level and took no effective actions to stop him. It didn't seem to matter that Gingrich's moral conservatism was hypocritical or that his methods were brazen, his accusations of corruption permanently tarnished his opponents. This brand of warfare worked, not as a strategy for governance but as a path to power, and what Gingrich planted, his fellow Republicans reaped. He led them to their first majority in Congress in decades, and his legacy extends far beyond his tenure in office. From the Contract with America to the rise of the Tea Party and the Trump presidential campaign, his fingerprints can be seen throughout some of the most divisive episodes in contemporary American politics. Burning Down the House presents the alarming narrative of how Gingrich and his allies created a new normal in Washington.
About the Author
---
Julian E. Zelizer is the Malcolm Stevenson Forbes, Class of 1941 Professor of History and Public Affairs at Princeton University, a CNN political analyst, and a contributor to NPR's Here & Now. His most recent books are Fault Lines: A History of the United States Since 1974 (co-authored with Kevin Kruse) and The Fierce Urgency of Now: Lyndon Johnson, Congress, and the Battle for the Great Society, winner of the D.B. Hardeman Prize for best book on Congress. Zelizer has been awarded fellowships from the New-York Historical Society, the Russell Sage Foundation, the Guggenheim Foundation, and New America.
Praise For…
---
"Briskly entertaining . . . Zelizer writes about all of this with aplomb, teasing out the ironies and the themes, showing that what made Gingrich exceptional wasn't so much his talent as his timing." —The New York Times

"Zelizer holds an endowed chair in history at Princeton but writes like a journalist. (A whisper to the faculty lounge: That is a compliment, not a disparagement.) His book has color and forward momentum. His story has drama and life lessons. His subject is, depending on your point of view, either heroic or odious. One way or another, no one can argue with Zelizer's thesis that Gingrich changed American politics. . . a remarkable, riveting story." —Boston Globe
 
"We live today in the world Gingrich wrought, and the story of how he wrought it is the focus of Burning Down the House by Julian E. Zelizer . . .  his book provides an engaging, unsettling and, alas, timely look at the torch that Gingrich took to our system of self-government." —Washington Post
 
"A lively and exceptional read." –Los Angeles Review of Books

"Today's hyperpartisan politics can be traced to Republican congressman Newt Gingrich's 1989 ouster of Democratic House Speaker Jim Wright, according to this meticulously researched account. . . .  Zelizer's witty, well-informed narrative . . . successfully presents this episode as a foretaste of congressional warfare to come. Political junkies will be thrilled." —Publishers Weekly

"[A] compelling work of political history. . . . Zelizer's accessible study of political behavior and leadership directly relates to today's tumultuous political scene. Anyone interested in American politics will devour this book." —Library Journal

"[A] thoughtful study of [Gingrich's] politics in action. . . . Sharp, lucid. . . . A masterfully written political road map for anyone wondering how we got to where we are, a bad place indeed." —Kirkus, starred review

"Newt Gingrich tied American politics to a rock and threw it down a well. That rock is still falling. Julian Zelizer's new book takes readers to the edge of that well, not to listen for the splash, but to grab the rope, and pull." —Jill Lepore, author of These Truths: A History of the United States

"With intensity and detail, Julian Zelizer recreates a drama that resounds in modern history. Most are well-acquainted with Newt Gingrich and his combative style, but here is the moment he transformed Congress and all of American politics." —Steve Kornacki, author of The Red and the Blue

"In this essential history of Newt Gingrich, Zelizer shows that Donald Trump isn't so much an innovator as an imitator.  Zelizer argues that Gingrich wrote the modern Republican Party's destructive playbook, and the Democrats and the media have yet to figure out an effective response."  —Jane Mayer, author of Dark Money and Chief Washington Correspondent, The New Yorker

"In this perfectly-timed book, one of America's premier historians tells the story of how our present madness began—with a cunning, lying, hypocritical character assassin named Newt Gingrich. Zelizer offers a hugely important narrative of the 'evil wind' Gingrich brought to American politics by deposing the speaker of the House and casting the country into decades of bad feeling." —Jonathan Alter, author of The Center Holds

"How did we arrive at today's hyper-partisan, polarized, gridlocked and dysfunctional politics? In this rich and riveting tale of Newt Gingrich's rise to power, ace historian Julian Zelizer makes a compelling argument that the former House Speaker is to blame." —John A. Farrell, author of Richard Nixon: The Life

"A gripping read about the rise of a ruthless, no-holds-barred Republican mode of politics and its main architect--Newt Gingrich. Anyone struggling to contend with our current political crisis--meaning, everyone--will be well served by reading this timely book by one of our leading lights on the history of the U.S. Congress." —Joanne B. Freeman, author of The Field of Blood

"Newt Gingrich was one of the most consequential figures in American politics in the Twentieth Century, with major responsibility for our current political turmoil. A lot has been written about the rise and fall of Newt. It takes a good historian to provide insight, new material and context to what we already know. Julian Zelizer is a first rate historian, and even for those of us present at Gingrich's emergence into national life, especially through his assault on Democratic Speaker Jim Wright, and throughout his career, Burning Down the House enlightens and enriches our understanding of a pivotal time in American life." —Norman Ornstein, co-author of It's Even Worse Than It Looks: How the American Constitutional System Collided With the New Politics of Extremism