Think Like a Cat: How to Raise a Well-Adjusted Cat--Not a Sour Puss (Paperback)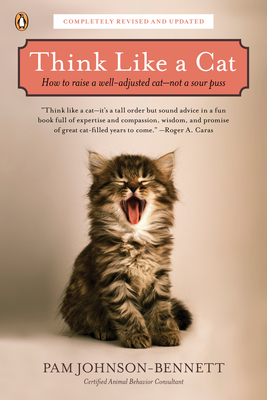 List Price: $20.00
Our Price: $19.00
(Save: $1.00 5%)
Description
---
America's favorite cat behavior expert, author of Catwise and Cat vs. Cat, offers the most complete resource for cat owners of all stripes, now fully updated.

"The queen of cat behavior" - Steve Dale, author of My Pet World

Think it's impossible to train a cat? Think again! By learning how to think like a cat, you'll be amazed at just how easy it is. Whether you are a veteran cat lover, a brand-new owner of a sweet kitten, or the frustrated companion of a feline whose driving you crazy, Pam Johnson-Bennett will help you understand what makes your cat tick (as well as scratch and purr). Topics range from where to get a cat to securing a vet; from basic health care to treating more serious problems; choosing an inrresistible scratching post and avoiding litterbox problems.

A comprehensive guide to cat care and training, she helps you understand the instincts that guide feline behavior. Using behavior modification and play therapy techniques, she shares successful methods that will help you and your cat build a great relationship.
About the Author
---
Pam Johnson-Bennett, author of Catwise, Cat vs Cat, and many other books, is one of the most popular and sought-after cat behavior experts in the world. She has a private cat-consulting practice in Nashville, appears on Animal Planet UK and Canada, and lectures on cat behavior at veterinary and animal welfare conferences around the world. She's been featured on CNN, Fox News Channel, CBS, ABC, NBC, Fox & Friends, Animal Planet Radio, and many more shows. Print profiles include Wall Street Journal, The New York Times, Real Simple, Better Homes & Gardens, Woman's World, Newsweek, Prevention, USA Today, Family Circle, Complete Woman, Newsday, Chicago Tribune, USA Weekend, Washington Post, and Parade. She was VP of the International Association of Animal Behavior Consultants and founded the IAABC Cat Division. Pam served on the American Humane Association's Advisory Board on Animal Behavior and Training. She lives in Nashville, TN.
Praise For…
---
"Think like a cat--it's a tall order but sound advice in a fun book full of expertise and compassion, wisdom, and promise of great cat-filled years to come."
—Roger A. Caras

"An insightful and easy-to-follow tour of the land and language of felines. Even experienced owners will benefit from this book. She's the queen of cat behavior!"
—Steve Dale, author of My Pet World

"If you have a cat, buy ths book. If you know someone who shares their home with a cat, buy it for them!"
—Mark Waldrop, DVM, Nashville Cat Clinic