The Cause: The Fight for American Liberalism from Franklin Roosevelt to Barack Obama (Paperback)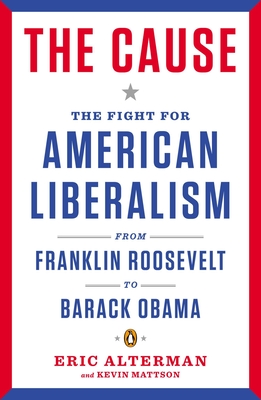 List Price: $20.00
Our Price: $19.00
(Save: $1.00 5%)
Description
---
A major history of American liberalism and the key personalities behind the movement
Why is it that nearly every liberal initiative since the end of the New Deal—whether busing, urban development, affirmative action, welfare, gun control, or Roe v. Wade—has fallen victim to its grand aspirations, often exacerbating the very problem it seeks to solve? In this groundbreaking work, the first full treatment of modern liberalism in the United States, bestselling journalist and historian Eric Alterman together with Kevin Mattson present a comprehensive history of this proud, yet frequently maligned tradition. In The Cause, we meet the politicians, preachers, intellectuals, artists, and activists—from Eleanor Roosevelt to Barack Obama, Adlai Stevenson to Hubert Humphrey, and Billie Holiday to Bruce Springsteen—who have battled for the heart and soul of the nation.
About the Author
---
Eric Alterman is the author of eight previous books, including the New York Times bestseller The Book on Bush and What Liberal Media? He lives in New York City.
Kevin Mattson is the Connor Study Professor of Contemporary History at the University of Ohio. He lives in Athens, Ohio.
Praise For…
---
 "The story Alterman tells is . . . worth restating given the strenuous . . . campaign by conservatives to rewrite the entire history of liberalism. . . . Alterman works hard to correct the record." — New York Times Book Review

"Alterman's magnum opus… All aspects of liberalism are surveyed, from the culture of Hollywood movies to the civil rights movement to intellectual debates.… In this way, Alterman's book stands as the definitive work on its subject."  — San Francisco Chronicle

 "What a relief it is…to read Eric Alterman's superb new book, THE CAUSE: The Fight for American Liberalism From Franklin Roosevelt to Barack Obama. [I]f your goal is to learn about, and understand, one of this country's most potent political forces, this book belongs in your hands."  — Boston Globe

"…an intellectual (and actual) history of liberalism that even [Lionel] Trilling would approve of…coherent and excellent…."  — Daily Beast

"…an impressive history, with profiles of leaders both famous and unfamiliar, and detailing legislative and cultural battles that highlight the advancement of the cause. Readers interested in liberal politics and sociopolitical history will most appreciate the authors' extensive research."  — Library Journal

"…an illuminating history of postwar politics, international relations, culture, and philosophy—all in one scrupulously researched volume."  — Publishers Weekly