I Think, Therefore I Draw: Understanding Philosophy Through Cartoons (Paperback)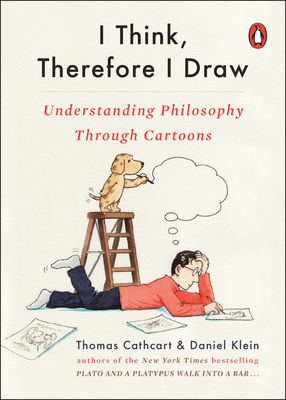 List Price: $14.00
Our Price: $11.90
(Save: $2.10 15%)
Warehouse, In Stock | Usually Ships in 1-5 Days | New
Description
---
A hilarious new exploration of philosophy through cartoons from the duo who brought you the New York Times bestselling Plato and a Platypus Walk Into A Bar...

Thomas Cathcart and Daniel Klien have been thinking deep thoughts and writing jokes for decades, and now they are here to help us understand Philosophy through cartoons, and cartoons through Philosophy. Covering topics as diverse as religion, gender, knowledge, morality, and the meaning of life (or the lack thereof), I Think, Therefore I Draw gives a thorough introduction to all of the major debates in philosophy through history and the present. And since they explain with the help of a selection of some of the smartest cartoonists working today, you'll breeze through these weighty topics as you guffaw and slap your knee.

Cathcart and Klein's Plato and a Platypus Walk into a Bar... and Heidegger and a Hippo Walk Through Those Pearly Gates have been a favorite of philosophers and non-philosophers alike for years. Packed with dozens of witty cartoons and loaded with profound philosophical insight, I Think, Therefore I Draw will delight readers and leave them enlightened.
About the Author
---
Thomas Cathcart and Daniel Klein studied philosophy together at Harvard in the last millennium. Since then Danny has written comedy for Lily Tomlin, Flip Wilson, and others, and published scores of fiction and nonfiction books— from thrillers to entertaining philosophical books, such as his London Times bestseller Travels with Epicurus and his most recent book, Every Time I Find the Meaning of Life, They Change It.  Born in 1939, Danny persists in denying his mortality.  He thinks it's a joke.
 
Thomas Cathcart studied theology and managed health care organi­zations before linking up with Danny to write Plato and a Platypus Walk into a Bar, Aristotle and an Aardvark Go to Washington, and I Think Therefore I Draw. He is also the author of The Trolley Problem, or Would You Throw the Fat Guy Off the Bridge? and There is no God and Mary is His Mother: Rediscovering Religionless Christianity
Praise For…
---
"Daniel Klein and Thomas Cathcart romp through key concepts in western philosophy courtesy of cartoons. . . A perfect dummies' guide for those who like to smile wryly as the gently exercise their brains." —The Age

"Ingeniously conceived. . . [I Think, Therefore I Draw] is an enlightening look at philosophy through the laughs we get from zinger cartoons." —The Berkshire Eagle

"Thomas Cathcart and Daniel Klein are up to their old tricks. The distinguished gagmen have been cracking serious philosophy jokes since they were classmates at Harvard in the 1960s, and they give signs neither of curtailing their wit nor moderating its wickedness. . . .[I Think Therefore I Draw] transports ordinary laypersons into extraordinary states of wizened enlightenment without the aid of service dogs or mind-altering substances. This feat often requires more than the application of conventional scholarship. Sometimes only a joke will do. . . . I Think, Therefore I Draw is easy to pick up. Not so easy to set down." —The Berkshire Edge

"From Zeno to Nietzsche, a lighthearted, illustrated romp through philosophical thought…. [Cathcart and Klein]  succeed in making philosophy accessible and fun. Entertaining and slyly illuminating." —Kirkus Reviews
 
Praise for Plato and a Platypus Walk into a Bar...

"[Cathcart and Klein] know their stuff, and wear their learnedness lightly, and Plato and a Platypus is a pleasure to read.…I can't help but love this book, and I have been quoting liberally from it" —Philosophy Now

"A Hoot." —Times Literary Supplement

"What happens when you mix corny jokes, one-liners and vaudeville humour with some of life's great lessons? You get an extraordinary read you'll want to share with as many people as possible." —Orlando Sentinel

"The zaniest bestseller of the year." —The Boston Globe

"I laughed, I learned, I loved it." —Roy Blount, Jr.