Net Cetera: Chatting With Kids About Being Online: Chatting With Kids About Being Online (Paperback)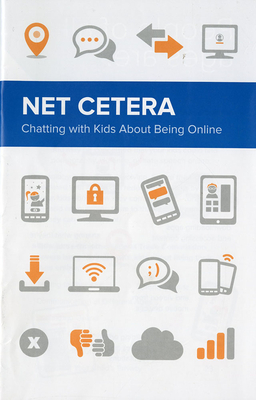 $6.00
This item is backordered and not currently available. Please contact us for an estimated availability date.
Description
---
This helpful guide helps adults explain to children how to use the internet and smart devices safely.  The guide gives examples of how to talk to kids of different ages, from very young, to "tweens" (8- to 12-year-olds), to teens.  The guide addresses all manner of devices which allow kids to access the internet (computers, smart phones, and other mobile devices and apps), and how adults can choose safe devices to give to their kids, what adults can do to monitor the devices, and how to teach kids to use the devices safely (including knowing when they are receiving or about to send inappropriate content, what to look out for in cases where hacking from outside sources is likely, creating passwords and protecting personal information, and more).  This guide is colorful and very user-friendly, and filled with important facts and advice for adults and kids about child internet safety.  Fostering internet safety starts by talking to your children at a young age about the possible dangers and how to use internet devices safely and to recognize possible threats and dangers to privacy.  Also included is a section on cyberbullying and how to talk to kids about this important issue.
Related items:
Infrastructure & Electronic Security publications can be found here: https://bookstore.gpo.gov/catalog/infrastructure-electronic-security

Parenting resources collection is available here: https://bookstore.gpo.gov/catalog/parenting

Education & Libraries collection is here: https://bookstore.gpo.gov/catalog/education-libraries