Child Development: Context, Culture, and Cascades (Paperback)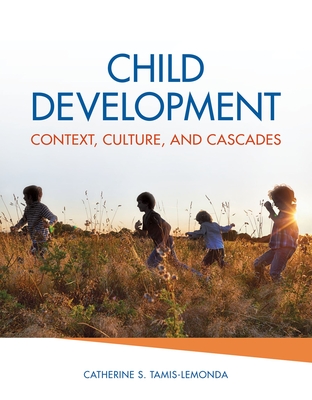 This item is backordered and not currently available. Please contact us for an estimated availability date.
Description
---
Child Development: Context, Culture, and Cascades seeks to convey the wonder and awe of child development. Catherine S. Tamis-LeMonda aims to inspire students to understand the process of change and to think about change through the eyes of a developmental scientist. To appreciate child development requires understanding the basics: What is changing and why? Accordingly, each chapter describes changes in a select domain of development at a specific time in childhood (the what), and considers the many forces that spur changes in children (the how). Within and across chapters, students will learn about interactions between biology and environment; the role of contexts (e.g., family, school, community, and so on) in development; and how cultural views and practices infuse children's everyday lives. Finally, because the path of a river is affected by the flowing waters that preceded it, students will come to appreciate how small changes can exert downstream effects on development in the process of developmental cascades. Changing children swim in ever-changing waters. However, beyond providing the fundamentals of child development, the ultimate message of this book runs much deeper than words on a page. Students will see that answers to the "whats" and "hows" of change are both fundamental to science and hold a key to improving the lives of children and families around the world. Child Development: Context, Culture, and Cascades is available with Oxford Insight. Oxford Insight pairs best-in-class OUP content with curated media resources, activities, and gradable assessment, in a guided learning environment that delivers performance analytics, drives student engagement, and improves student outcomes.
About the Author
---
Catherine S. Tamis-LeMonda is Professor of Developmental Psychology, in the Department of Applied Psychology at the Steinhardt School of Culture, Education, and Human Development at New York University, where she directs the Play & Language Lab. She is a Fellow of the American Psychological Society and has served in various capacities (past and current) such as President of the International Congress of Infant Studies; member of the Governing Council of the Society for Research on Child Development; associate editor of Infancy and Journal of Experimental Psychology: General; reviewer on editorial boards of several journals and panels of federal and foundation funding agencies. Tamis-LeMonda's research focuses on infant and child language, communication, object play, literacy, and motor skill, and the roles of language input, home experiences, parenting, and culture in infant learning and development across domains. Tamis-LeMonda's research has been funded by the National Science Foundation, National Institute of Child Health and Human Development, National Institute of Mental Health, Administration for Children, Youth and Families, the LEGO Foundation, Ford Foundation, and the Robinhood Foundation. She has over 200 publications in peer-reviewed journals and books, and co-edited the volumes Child Psychology: A Handbook of Contemporary Issues, 1st 2nd 3rd Editions (Psychology Press, 1999, 2006, 2016), Handbook of Father Involvement: Multidisciplinary Perspectives (Psychology Press, 2002; 2013), The Development of Social Cognition and Communication (Psychology Press, 2005), and the Handbook of Infant Development (Cambridge University Press, 2020). Her husband Richard, children Brittany, Christopher, and Michael; grandchildren Lila and Zoe; and dog Lucy are a constant source of joy and continual reminder to always find the time to take a break, go for a walk, host a holiday, do some cooking, and relish time with family.