Hitler's Vienna: A Dictator's Apprenticeship (Hardcover)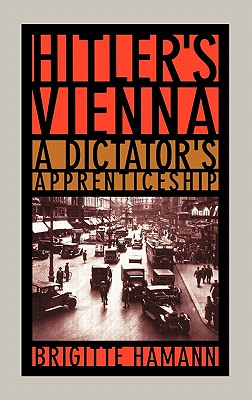 This item is backordered and not currently available. Please contact us for an estimated availability date.
Description
---
Already a critically acclaimed bestseller in Germany and in Austria, Hitler's Vienna explores the critical, formative years which Hitler spent in Vienna, painting a fascinating portrait of the development of his ideas and career against the social, cultural, and political climate of the capitol of the Hapsburg Empire.
Hitler's Vienna was not the artistic and intellectual center normally associated with Sigmund Freud, Gustav Mahler, Arthur Schnitzler, and Ludwig Wittgenstein. Instead, it was a cauldron of fear and indignation, a city teeming with the "little people" who rejected Viennese modernity as too international, too "Jewish," and too libertine. Indeed, Hitler's Vienna was a breeding ground for obscure political theories, usually propagated by disadvantaged men living together in hostels. To them, being "better" in this multinational city meant belonging to the "noble German people." Brigitte Hamann compellingly depicts the undercurrent of disturbing social and political ideologies that permeated this city of civil unrest. Drawing on previously untapped resources, she gives us the fullest account ever rendered of the young fuhrer.
Hitler's Vienna reveals the vital connection between Hitler's indoctrination into the devastating racial politics that swept Germany's multinational state and the hotbed of nationalistic activity that was Vienna in the early 20th century. It is a profoundly important addition to present Hitler scholarship.
About the Author
---
Brigitte Hamann is a Ph.D. and specialist in 19th and 20th-century history, specifically of Austrian history. She is the author of many books in German, some of which have been translated into English, including The Reluctant Empress: A Biography of Empress Elisabeth of Austria and Bertha von Suttner. A Life for Peace.