On Revision: The Only Writing That Counts (Chicago Guides to Writing, Editing, and Publishing) (Paperback)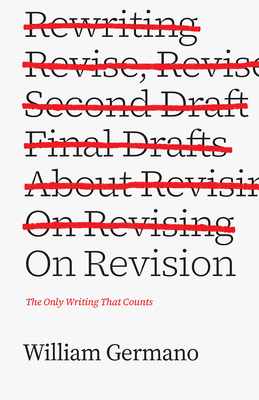 List Price: $20.00
Our Price: $17.00
(Save: $3.00 15%)
Warehouse, In Stock | Usually Ships in 1-5 Days | New
Description
---
A trusted editor turns his attention to the most important part of writing: revision.

So you've just finished writing something? Congratulations! Now revise it. Because revision is about getting from good to better, and it's only finished when you decide to stop. But where to begin? In On Revision, William Germano shows authors how to take on the most critical stage of writing anything: rewriting it.

For more than twenty years, thousands of writers have turned to Germano for his insider's take on navigating the world of publishing. A professor, author, and veteran of the book industry, Germano knows what editors want and what writers need to know: Revising is not just correcting typos. Revising is about listening and seeing again. Revising is a rethinking of the principles from the ground up to understand why the writer is doing something, why they're going somewhere, and why they're taking the reader along with them.

On Revision steps back to take in the big picture, showing authors how to hear their own writing voice and how to reread their work as if they didn't write it. On Revision will show you how to know when your writing is actually done—and, until it is, what you need to do to get it there.
 
About the Author
---
William Germano is the author of several books, including Getting It Published: A Guide for Scholars and Anyone Else Serious about Serious Books and From Dissertation to Book, both also published by the University of Chicago Press. His most recent book, co-written with Kit Nicholls, is Syllabus: The Remarkable, Unremarkable Document That Changes Everything. He has served as editor-in-chief at Columbia University Press, vice president and publishing director at Routledge, and dean of the faculty of humanities and social sciences at the Cooper Union for the Advancement of Science and Art, where he is now professor of English literature. 
 
Praise For…
---
"On Revision is more of a pep talk than anything else—but an enjoyable and emboldening one. Its tone feels warm and fresh; the many revisions that Germano says it has gone through are invisible to the reader, as they should be. The book never lingers too long on a point, and, at 200 pages, does not outstay its welcome. It is an eloquent example of all that it espouses."
— Joe Moran, The Times Literary Supplement

"All writers are, or should be, re-writers, Germano insists, and rewriting begins with rereading, with "listening" to what your text wants to say. The advice compiled in this revelatory, generous book—tips on discovering or rediscovering your argument, on organizing its archive, on helping your readers identify its takeaways—will be useful for everyone from seasoned authors to dissertating graduate students.  Best of all, interspersed with the practical counsel, On Revision contains a moving vindication of the importance and the pleasure of scholarly writing and reading."
— Deidre Lynch, author of Loving Literature: A Cultural History

"William Germano may be a terrible birder, as he tells us at the beginning of this book, but he's certainly an excellent writer and teacher of the craft. On Revision is about the process of writing and its last steps, those of shaping a text and turning a manuscript into a well-argued and readable book it wants to be. With On Revision at your side, you will have a superb guide to gaining the skills and experience needed to finish your own project, all the while enjoying the elegance and wit of Germano's prose."
 
— Liliane Weissberg, Christopher H. Browne Distinguished Professor in Arts and Science, University of Pennsylvania

"On Revision is clear, compelling, vital. The book is a pleasure to read, and it reveals the pleasures in revising one's writing. Germano has written a must read for all students, teachers, and writers."
 
— Ayanna Thompson, Regents Professor, Arizona State University

"Facing the blank screen can be terrifying enough. Revising what you've finally managed to write, especially in response to the hard words of a good editor or the critical comments of reader reports, can be downright paralyzing. For those who've been there, or will soon be there, this book by one of the best editors and writers I know is a true gift. Equal parts practical, pastoral, and inspiring, it will be my go-to for many years to come."
 
— Timothy Beal, Florence Harkness Professor of Religion, Case Western Reserve University

"A wonderful guide to better writing. I would endorse this book without reservation for anyone whose work requires writing for publication."
— Richard G. Little, Editor, Public Works Management & Policy

"Germano's guide—which has to do with considerably more than revising written work—contains much of value, even for those of us who have been in the game for many years."
— The Russell Kirk Center

"On Revision provides everything academic writers need to know about crafting superior essays, articles, monographs, and dissertations. Germano advises how to identify and write to the target audience, build a convincing argument, create an inventory and overview of what's present in early drafts, choose the best supporting evidence, and finish with the strongest possible ending. He emphasizes the importance of the writing's shape, and encourages use of the core tenets of creative writing (voice, structure, story), as they breathe life and depth into an argument. . . . This book is essential for anyone facing down the vast and mysterious landscape of academic writing; invaluable for students and educators alike."
— Booklist

"The book explores what it means to write, and why and how we do it. Germano takes readers through the iterative process of writing and revision, offering guiding principles and advice alongside personal anecdotes and reflections to motivate scholarly authors and help them conceptualize the task at hand."
— H-Net

"Germano is known as a teacher and author on the subject of academic writing... On Revision: The Only Writing That Counts, is clear, well organized from beginning to end, and engaging for the reader. It is exactly an example of what he is teaching: how to write and revise a successful piece of writing."
— Publishing Research Quarterly

"On Revision: The Only Writing That Counts is a valuable resource for writers of academic and scholarly works."
— Technical Communication

"Germano's book is full of little tips and tricks that may be helpful to any decision writer. But where it excels is setting out a practical process for revision – a roadmap of sorts to get you through the revision process."
— Slaw