Our Latest Longest War: Losing Hearts and Minds in Afghanistan (Paperback)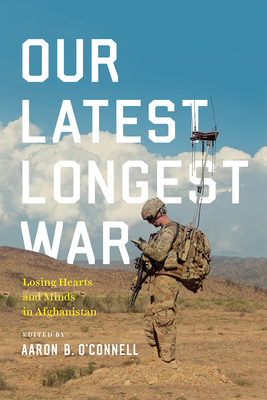 This item is backordered and not currently available. Please contact us for an estimated availability date.
Description
---
The first rule of warfare is to know one's enemy. The second is to know thyself. More than fifteen years and three quarters of a trillion dollars after the US invasion of Afghanistan, it's clear that the United States followed neither rule well.

America's goals in Afghanistan were lofty to begin with: dismantle al Qaeda, remove the Taliban from power, remake the country into a democracy. But not only did the mission come completely unmoored from reality, the United States wasted billions of dollars, and thousands of lives were lost. Our Latest Longest War is a chronicle of how, why, and in what ways the war in Afghanistan failed. Edited by historian and Marine lieutenant colonel Aaron B. O'Connell, the essays collected here represent nine different perspectives on the war—all from veterans of the conflict, both American and Afghan. Together, they paint a picture of a war in which problems of culture and an unbridgeable rural-urban divide derailed nearly every field of endeavor. The authors also draw troubling parallels to the Vietnam War, arguing that deep-running ideological currents in American life explain why the US government has repeatedly used armed nation-building to try to transform failing states into modern, liberal democracies. In Afghanistan, as in Vietnam, this created a dramatic mismatch of means and ends that neither money, technology, nor the force of arms could overcome.

The war in Afghanistan has been the longest in US history, and in many ways, the most confounding.  Few who fought in it think it has been worthwhile.  These are difficult topics for any American or Afghan to consider, especially those who lost friends or family in it. This sobering history—written by the very people who have been fighting the war—is impossible to ignore.
About the Author
---
Aaron B. O'Connell is a veteran of the war in Afghanistan and the author of Underdogs: The Making of the Modern Marine Corps. Previously, he was associate professor of history at the US Naval Academy in Annapolis, Maryland. Most recently, he served in the Obama administration as Director of Defense Policy and Strategy on the National Security Council.
Praise For…
---
"Contributors to the volume—almost all military veterans of the Afghan war—generally agree that the American people are culturally unable to win wars like this one. . . . This enlightening volume is probably the best introduction to what went wrong there, and why."
— New York Times Book Review

"Brings together a group of uniquely qualified and talented authors to examine US military operations in Afghanistan. . . . This is a difficult read about the complex subject of culture as applied to a complex nation-state. Much of it deals with the inability of Americans to solve Afghanistan's problems. However, for those interested in US national security issues and the limits of power, O'Connell's volume is necessary reading."
— Publishers Weekly

"Nothing has ever been easy in the shadow of the Hindu Kush, and the essays in Our Latest Longest War convey that accurately, thoughtfully, and unblinkingly.  This superb collection of essays by scholars and practitioners illuminates the innumerable challenges and harsh realities with which those of us engaged in Afghanistan contended in our collective endeavor to ensure that the country was never again a sanctuary for Al Qaeda or other transnational extremists—as it was when the 9/11 attacks were planned there."
— General David Petraeus, US Army (Ret), Commander,

"Our Latest Longest War is a unique collection of essays, written by those who actually implemented Afghanistan policy in the field, not by the senior government officials halfway around the world in Washington. The complexity and difficulty of counterinsurgency warfare are made clear in this superbly edited book. A must read for government and military leaders tempted to frame decisions as overly simplistic binary choices, and for those who are called upon to serve at 'the tip of the spear' and face realities not understood and acknowledged at the strategic level."
— Karl W. Eikenberry

"A measured and clear-eyed look at the deep rooted challenges embedded in the ongoing effort to achieve a stable and successful outcome in Afghanistan—many of which are of our own making through inattention to the history and culture of this complex nation. As NATO Commander with overall strategic command of the operation, I watched four successive ISAF Commanders—loyal subordinates and brilliant Generals all—try and fail to overcome the inherent contradictions in our approach. This collection of well sourced essays illuminates our collective failures, despite the best of intentions."
— Admiral James Stavridis

"This critique of the US intervention in Afghanistan compels attention because all the contributors, both American and Afghan, are veterans of the conflict, and the different chapter topics are mutually complementary. . . . Recommended."
— Choice

"Grimly insightful. . .Our Latest Longest War deserves close reading and careful reflection by anyone (in particular, US government officials with a role in national defense) wishing to learn about the Afghan War and the American way of war. Aaron O'Connell and his coauthors are to be congratulated for clarifying so powerfully the hubris and limits of American and Western power in Afghanistan."
— Michigan War Studies Review