The Gardener's Guide to Prairie Plants (Paperback)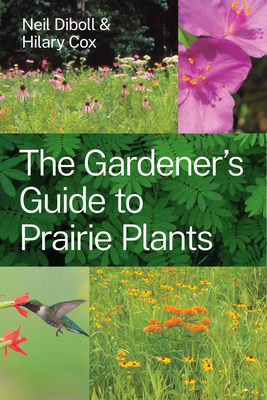 List Price: $35.00
Our Price: $29.75
(Save: $5.25 15%)
Warehouse, In Stock | Usually Ships in 1-5 Days | New
Description
---
A comprehensive and beautifully illustrated reference for all gardeners passionate about native plants and prairie restoration.
 
The Gardener's Guide to Prairie Plants is the one-stop compendium for all gardeners aspiring to use native prairie plants in their gardens. Neil Diboll and Hilary Cox—two renowned prairie gardeners—compile more than four decades' worth of research to offer a wide-ranging and definitive reference for starting and maintaining prairie and meadow gardens and restorations. Alongside detailed synopses of plant life cycles, meticulous range maps, and sweeping overviews of natural history, Diboll and Cox also include photographs of 148 prairie plants in every stage of development, from seedling to seedhead. North America's grasslands once stretched from the Blue Ridge to the Rocky Mountains, and from Texas to Manitoba, blanketing the mid-continent with ecologically important, garden-worthy, native species. This book provides all the inspiration and information necessary for eager native planters from across the country to welcome these plants back to their landscapes. The Gardener's Guide to Prairie Plants is a must-have reference for gardeners, restorationists, and every flora fan with a passion for native plants, prairies and meadows. 
About the Author
---
Neil Diboll has been president and consulting ecologist for Prairie Nursery, Inc. for over forty years, having previously held positions with the United States Park Service, the United States Forest Service, and the University of Wisconsin-Green-Bay's Cofrin Arboretum.

Hilary Cox is a horticulturist, garden designer, botanist, and photographer. She was the owner and landscape designer of Leescapes Garden Design for over twenty years and has previously held positions as a designated collector of prairie and woodland seeds for the joint projects of the Millennium Seedbank, Royal Botanic Gardens, Kew, and Seeds of Success USA, which was coordinated by the Chicago Botanic Garden.
Praise For…
---
"Natural-lawn enthusiasts will rejoice at this incredibly thorough volume about native prairie plants. Prairie Nursery president/consulting ecologist Diboll and landscape designer/botanist/photographer Cox provide charts that detail what botanists and science-savvy gardeners need to know as they explore and plan a prairie garden. . . .  An excellent addition to any library, this plant guide will prove to be a lasting resource for gardeners and nature lovers."
— Library Journal

"This exceptional guide to plants of the American prairies offers information about every feature of these native plants that a gardener might wish to know. The text and lovely color photographs present lucid details of each plant's life from 'birth to bloom to seed.' Both experienced gardeners and novices will find ample knowledge of plant lives on these pages. Not only do the authors provide thorough descriptions of life cycles for 148 plant species, but they also emphasize how the lives and well-being of prairie plants are interwoven with the lives of animals, microbes, and abiotic features of their environments. With the information presented in this exhaustively researched guide, gardeners can restore some of the rich tapestry of prairie life that has been lost by conversion of the once vast native prairies to cropland."
— James B. Nardi, University of Illinois

"If you are looking for the complete—and I do mean complete—guide to prairie ecosystems, you will not do better than this much-needed book. Diboll and Cox cover not only what prairie species look like at each of their growth stages (a first!), they also dive deep into their historical and ecological roles in prairie ecosystems."
— Douglas W. Tallamy, University of Delaware

"I recommend this book to anyone in the fields of horticulture and ecology, and especially those interested in native prairie plants, from master gardeners to beginning gardeners. This book is the best reference on the subject I have ever seen, and it has been needed it for many years. This book provides closeup of every stage for each species' life cycle, including the seedling, emerging leaves in early spring, stem leaves, flowers, and seedheads. Let's get it in every library, university horticulture classes, ecology group, nature preserve, and to everyone who grows native prairie plants so that our butterflies and other wild things that depend on these plants are happy, and our planet is a better place to live."
— Stephanie Cohen, "The Perennial Diva" and emeritus editor of "Fine Gardening"

"The Gardener's Guide to Prairie Plants provides both inspiration and information that is extremely useful to both beginning prairie aficionados and professional landscape designers and ecological restorationists. The coverage of 148 species, with photographs of them at all stages: from newly-germinating seedlings to mature flowering and seed-producing plants is particularly illuminating. Authors Neil Diboll and Hilary Cox draw on decades of first-hand experience in propagating, growing, and using native prairie plants in gardens and landscapes that are both ecologically sound and beautiful in this handsome volume."
 
— Darrel Morrison, author of "Beauty of the Wild"

"The Gardener's Guide to Prairie Plants is the first book to include numerous photographs illustrating each stage of a plant's life cycle, allowing the reader to identify them throughout the growing season. This is the book I wish I had twenty-five years ago when I started planting prairie plants in my garden. The authors do an excellent job of explaining the unique characteristics of each species, how to grow them to sustain pollinator and wildlife, and incorporating them into gardens or seeded meadows. Whether you're just starting out or looking to expand your knowledge, this book is an inspiring and informative resource that will enhance your appreciation for prairie plants, their beauty, and function in gardens or large scale prairie restorations."
— Heather Holm, author of "Pollinators of Native Plants"

"Comprehensive and beautiful. . . . [The book conveys] so much information in a very accessible way."
 
— Piet Oudolf, garden designer