The Jazz Loft Project: Photographs and Tapes of W. Eugene Smith from 821 Sixth Avenue, 1957–1965 (Hardcover)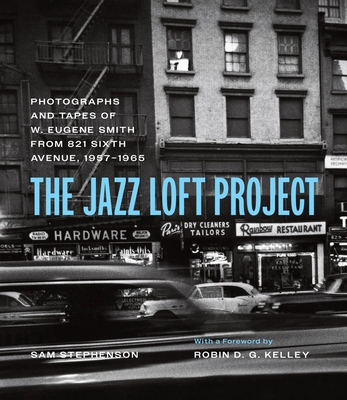 List Price: $40.00
Our Price: $34.00
(Save: $6.00 15%)
Warehouse, In Stock | Usually Ships in 1-5 Days | New
Description
---
Reissue of an acclaimed collection of images from photographer W. Eugene Smith's time in a New York City loft among jazz musicians.
 
In 1957, Eugene Smith walked away from his longtime job at Life and the home he shared with his wife and four children to move into a dilapidated, five-story loft building at 821 Sixth Avenue in New York City's wholesale flower district. The loft was the late-night haunt of musicians, including some of the biggest names in jazz—Charles Mingus, Zoot Sims, Bill Evans, and Thelonious Monk among them. Here, from 1957 to 1965, he made nearly 40,000 photographs and approximately 4,000 hours of recordings of musicians. Smith found solace in the chaotic, somnambulistic world of the loft and its artists, and he turned his documentary impulses away from work on his major Pittsburg photo essay and toward his new surroundings.
 
Smith's Jazz Loft Project has been legendary in the worlds of art, photography, and music for more than forty years, but until the publication of this book, no one had seen his extraordinary photographs or read any of the firsthand accounts of those who were there and lived to tell the tales.
 
About the Author
---
W. Eugene Smith (1918–78) was an American photographer who worked for Life from 1939 to 1954 and thereafter was affiliated with the Magnum photo agency. Several posthumous overviews of Smith's work have been published, including The Big Book, a retrospective of his work as he designed it, and a biography, Let Truth Be the Prejudice: W. Eugene Smith, His Life and Photographs, by Ben Maddow. 

Sam Stephenson is a writer from North Carolina now based in College Station, TX. He is the author of a biography of Smith, Gene Smith's Sink, as well as Dream Street: W. Eugene Smith's Pittsburgh Project and The Jazz Loft Project: The Photographs and Tapes of W. Eugene Smith from 821 Sixth Avenue. He is also the ghost writer of Don't Tell Anybody the Secrets I Told You, a memoir by Lucinda Williams. In 2019, he won a Guggenheim Fellowship for his work in progress about the band Jane's Addiction.
 
Praise For…
---
"[Smith's] photos of the city offer a rare glimpse into a neighborhood being itself when it thought no one was watching. This will be an essential book for jazz fans, photography lovers and those interested in the history of New York."
— Publishers Weekly, on the original edition

"The samples from the tapes that Stephenson had transcribed work with the photos to bring a moment in jazz to life as perhaps no work in any other medium, including documentary cinema, ever has. Absolutely magnificent."
— Ray Olson

"Every obsessive deserves his own obsessive Boswell, and W. Eugene Smith has his in Stephenson."
— Fred Kaplan

"The most chaotic and soulful gift book this year… an elegiac stew of sight and sound, and a singularly weird, vital and thrumming American document."
— Dwight Garner

"A stunning cross of scholarly history and Smith's haunted photography."
— Jesse Jarnow

"[The Jazz Loft Project] is a riveting work of social archaeology, and extraordinary testament to artists whose music caught all the tumult and excitement of a fast-changing America. It is also a glimpse inside the frenetic mind of a photographic pioneer; an obsessive, maverick genius, who died, poor and relatively unsung, in 1978, leaving behind some twenty-two tons of archive material, including his unfinished and ultimately unfinishable jazz project."
— Sean O'Hagan

"A book whose pages convey, beautifully, the strange cultural moment when a rat-infested hulk of a building hosted a perfect storm of creativity."
— Mike Hobart

"Smith was galvanized by the musicians' passion. . . . He seems to have likewise inspired by their sound; the photographs frequently suggest a kind of rhythm. . . . The photographs are also patently theatrical."
— Nicole Rudick

"[Smith's photos] are less focused on expressive acts than on a general scene—where a glass of beer on a piano is more important than the music going on fuzzily behind it, or the whole exhausting flow of an all-night session is summarized in a pair of shoes hovering over a dozen cigarette butts on the floor. . . . The loft photos are part of a larger attempt to capture the asymmetrical constellations that form and unform all around us, all the time: inside and outside the building are equally fascinating to Smith."
— Jonathan Elmer

"Smith was a driven, supremely talented man who wanted his photography to change the world—and it did. . . .  After Smith's 1979 death, some 4,000 hours of tape reposed, with his splendid photos, at the University of Arizona. What was on them was unsubstantiated legend. Enter Sam Stephenson, who tended their digitization and over painstaking years collated them with oral histories and other documentation. The result captures American culture in creative flux from the ground-eye level."
— Gene Santoro

"The Jazz Loft Project's unique source material gives readers a perspective on musicians involved in the bebop that could not be gleaned from their depiction in magazines or even the music they created."
— Chris Teal

"Smith left a magnificent mess, and Stephenson, in his second decade of research on the man, maintains the same simultaneous eye both for detail and the bigger picture."
— Patrick Hinely

"Intriguing and memorable."
— Ron Wynn

"An extraordinary book."
— Peter Margasak

"The highlight of the book is the photographs of musicians in the passions of playing. In one photo, [Thelonious] Monk is leaning back—cigarette dangling from his mouth—just as he lifts his right hand off the keyboard. He is drenched in shadow, but the light catches his face creating the stark contrast that distinguishes Smith's work."
— Elizabeth Hoover

"Working with photographs and audiotapes made by photojournalist W. Eugene Smith, Stephenson relates the history of an active jazz musicians' loft in New York City in a pivotal era."
— Virginia Schaefer

"There are many terrific photos in The Jazz Loft Project of musicians playing, chatting, or resting among Smith's archive. But these photos read quite differently from famous photos by such photographers as Carol Reiff, William Gottlieb, or William Claxton. They are stranger productions altogether—often fragmented, framing hands or feet alone, or featuring unplayed instruments with no musicians in sight. . . . Stephenson has undertaken a massive task, involving extensive archival and field research, as well as innumerable editorial decisions, and he has produced a stunning book that winds its argument less along the wire of discourse than across a complex web of images in juxtaposition. Unlike his gargantuan Pittsburgh project, this book is not something Smith imagined, or had in view. But Stephenson has done something Smith found very hard to do, and has done it, moreover, in a way that is true to Smith's extraordinary vision of the world."
— Jonathan Elmer