How to Think like a Philosopher: Twelve Key Principles for More Humane, Balanced, and Rational Thinking (Hardcover)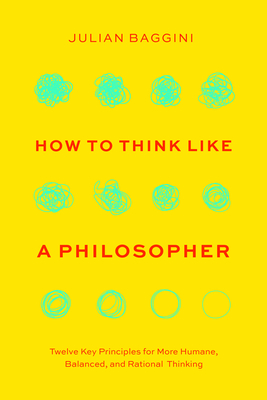 List Price: $24.00
Our Price: $20.40
(Save: $3.60 15%)
Warehouse, In Stock | Usually Ships in 1-5 Days | New
Description
---
An invitation to the habits of good thinking from philosopher Julian Baggini.

By now, it should be clear: in the face of disinformation and disaster, we cannot hot take, life hack, or meme our way to a better future. But how should we respond instead? In How to Think like a Philosopher, Julian Baggini turns to the study of reason itself for practical solutions to this question, inspired by our most eminent philosophers, past and present.

Baggini offers twelve key principles for a more humane, balanced, and rational approach to thinking: pay attention; question everything (including your questions); watch your steps; follow the facts; watch your language; be eclectic; be a psychologist; know what matters; lose your ego; think for yourself, not by yourself; only connect; and don't give up. Each chapter is chockful of real-world examples showing these principles at work—from the discovery of penicillin to the fight for trans rights—and how they lead to more thoughtful conclusions. More than a book of tips and tricks (or ways to be insufferably clever at parties), How to Think like a Philosopher is an invitation to develop the habits of good reasoning that our world desperately needs.
About the Author
---
Julian Baggini is founding editor of the Philosopher's Magazine and the author of many books, including Freedom Regained: The Possibility of Free Will, also published by the University of Chicago Press. He frequently contributes to the Guardian, BBC News Online, the Observer, and the New Humanist, among others.
Praise For…
---
"A witty primer on the art of thinking [and] an excellent guide to reasoning better as an ethical imperative."
— Irish Times

"In lively and engaging prose, the book distills some of history's most important philosophical ideas. . . . This is an important book. Much more than a guide to critiquing other people's arguments, it explains how we can each sharpen up our own act by becoming more attentive and—crucially—more generous in our thinking. It should be required reading for commentators, politicians and anyone who risks becoming too enamored with their own rectitude."
— The Herald (UK)

"On at least some level, [Baggini offers] the remedy to what the likes of Peterson or Malcolm Gladwell do: soberly appreciating 'the sheer difficulty of thinking well' – never reducing his counsel to hot takes or simple life hacks."
— Art Review (UK)

"An essential, inspiring guide to the challenges of our time, drawing on interviews with contemporary philosophers, and filled with the author's insights and reflections. It is exactly the book that we need."
— Sarah Bakewell, author of 'At the Existentialist Cafe: Freedom, Being, and Apricot Cocktails'

"Nobody thinks about thinking like Baggini. His latest book gives us an urgently needed guide to clear thinking, brought to life by a cast of our finest philosophers and illuminated by his gentle, humane, and accessible writing. Essential reading, both for making sense of a confusing world, and for living your everyday life. I'll be returning to this brilliant book again and again."
— Anil Seth, author of 'Being You: A New Science of Consciousness'

"If more philosophers wrote with the power and elegance Baggini achieves in this book, more of us would learn to think like them. Well, now we can!"
— Richard Holloway, former bishop of Edinburgh, primus of the Scottish Episcopal Church, and author of 'Leaving Alexandria: A Memoir of Faith and Doubt'

"How to Think Like a Philosopher exemplifies the skills and virtues it describes: throughout Baggini offers a clear, precise, open-minded, context-sensitive, well-reasoned and well-supported defense of philosophical thinking. He draws on the insights of others, maintains a healthy perspective on philosophy's strengths and occupational hazards, cites relevant facts, treats a range of views fairly, and is modest and reflective throughout. He walks his philosophical talk. . . The principles and virtues Baggini discusses will benefit anyone willing to put in the effort to improve their thinking. While not what we would normally call a 'self-help' book, How to Think Like a Philosopher is designed to help us help ourselves by being a bit more attentive, thoughtful, precise, and, in the end, philosophical."
— Metascience

"Hugely entertaining."
— Publishers Weekly

"A British philosopher who specializes in translating academic theories for a popular audience."
— Wall Street Journal

"Bright, engaging, and reliable."
— Los Angeles Review of Books