Touching Encounters: Sex, Work, and Male-for-Male Internet Escorting (Paperback)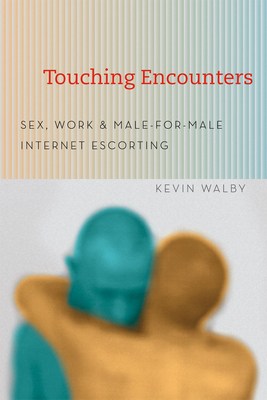 $41.25
This item is backordered. Please contact us for an estimated availability date.
Description
---
Often depicted as deviant or pathological by public health researchers, psychoanalysts, and sexologists, male-with-male sex and sex work is, in fact, an increasingly mainstream pursuit. Based on a qualitative investigation of the practices involved in male-with-male—or m4m—Internet escorting, Touching Encounters is the first book to explicitly address how masculinity and sexuality shape male commercial sex in this era of Internet communications. By looking closely at the sex and work of male escorts, Kevin Walby tries to reconcile the two extremes of m4m sex—the stereotypical idea of a quick cash transaction and the tendency toward friendship and mutuality. In doing so, Walby draws on the work of Foucault to make visible the play of power in these physical and commercial relations between men. At once a revelation to the sociology of work and a much-needed critical engagement with queer theory, Touching Encounters responds to calls from across the social sciences to connect Foucault with sociologies of sex, sexuality, and intimacy. Walby does this and more, retying this sexual practice back to society at large.
About the Author
---
Kevin Walby is assistant professor of sociology at the University of Victoria. He is coeditor of Emotions Matter: A Relational Approach to Emotions and Brokering Access: Power, Politics, and Freedom of Information Process in Canada. He is also the Prisoners' Struggles editor for the Journal of Prisoners on Prisons.
Praise For…
---
"
Touching Encounters
is a deeply thought-provoking excursion into the lives of men who advertise online for sex with other men—escorts. . . . Although Kevin Walby writes as a sociologist, and sociological praxis weaves throughout the book, readers from diverse disciplinary backgrounds will find this text useful. Readers seeking critical perspectives and theoretical debate will find this book exceptional."
— Christian Grov
"Kevin Walby's
Touching Encounters
is a major contribution to a growing body of literature about men in the sex industry. Grounded in the stories of male-for-male escorts, his skillful, thought-provoking analysis of their narratives seduces the reader into reassessing how sex and work are interwoven and helps to dismantle what Walby refers to as the 'young, hung, dumb, and full of cum' stereotype that too often limits our understandings of these men and their working lives. This book will inform student theorists and methodologists alike."
— Frances M. Shaver
"In this important interview study of male Internet escorts, Kevin Walby gets very close to his subjects and humanizes them and their bodies. He deepens our understanding of a new pattern of sexuality by creating bridges across theories, from Mead and Goffman to Foucault and queer theory, and shows how sex work is surely as much about relationships as sex, work or money. This is an oddly delightful and enlightening excursion into a new, 'touching,' and largely unknown social world. It will challenge many of the old stereotypes of the 'hustler.'"
— Ken Plummer
"Strongly grounded in debates within sociology, Kevin Walby's work reaches beyond its disciplinary base by drawing on anthropology, psychology, and philosophy, as well as on literary/cultural theory, and queer theory. Touching Encounters is very well researched, well organized, and well written—an original and fascinating contribution to the new sociology of sex."
— Tim Dean