Vote Gun: How Gun Rights Became Politicized in the United States (Hardcover)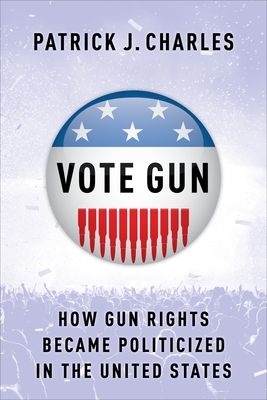 This item is backordered and not currently available. Please contact us for an estimated availability date.
Description
---
Today, gun control is one of the most polarizing topics in American politics. However, before the 1960s, positions on firearms rights did not necessarily map onto partisan affiliation. What explains this drastic shift?
Patrick J. Charles charts the rise of gun rights activism from the early twentieth century through the 1980 presidential election, pinpointing the role of the 1968 Gun Control Act. Gun rights advocates including the National Rifle Association had lobbied legislators for decades, but they had cast firearms control as a local issue. After the assassination of President John F. Kennedy in 1963 spurred congressional proposals to regulate firearms, gun rights advocates found common cause with states' rights proponents opposed to civil rights legislation. Following the enactment of the Gun Control Act, lawmakers on both sides of the aisle began to stake out firm positions. Politicians including Richard Nixon and Ronald Reagan recognized the potential of gun control as a wedge issue, and gun rights became increasingly tied to the Republican Party. Drawing on a vast range of archival evidence, Charles offers new insight into the evolution of the gun rights movement and how politicians responded to anti-gun control hardliners. He examines in detail how the National Rifle Association reinvented itself as well as how other advocacy groups challenged the NRA's political monopoly. Offering a deep dive into the politicization of gun rights,
Vote Gun
reveals the origins of the acrimonious divisions that persist to this day.
About the Author
---
Patrick J. Charles is senior historian and archivist for the United States Air Force. He is the author of Armed in America: A History of Gun Rights from Colonial Militias to Concealed Carry (2018). His research and writings have been cited by the Supreme Court of the United States, lower federal courts, and state supreme courts.