Toward a Cooperative Commonwealth: The Transplanted Roots of Farmer-Labor Radicalism in Texas (Working Class in American History) (Hardcover)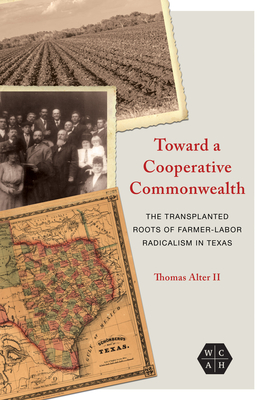 This item is backordered and not currently available. Please contact us for an estimated availability date.
Description
---
Agrarian radicalism's challenge to capitalism played a central role in working-class ideology while making third parties and protest movements a potent force in politics. Thomas Alter II follows three generations of German immigrants in Texas to examine the evolution of agrarian radicalism and the American and transnational ideas that influenced it. Otto Meitzen left Prussia for Texas in the wake of the failed 1848 Revolution. His son and grandson took part in decades-long activism with organizations from the Greenback Labor Party and the Grange to the Populist movement and Texas Socialist Party. As Alter tells their stories, he analyzes the southern wing of the era's farmer-labor bloc and the parallel history of African American political struggle in Texas. Alliances with Mexican revolutionaries, Irish militants, and others shaped an international legacy of working-class radicalism that moved U.S. politics to the left. That legacy, in turn, pushed forward economic reform during the Progressive and New Deal eras.
A rare look at the German roots of radicalism in Texas, Toward a Cooperative Commonwealth illuminates the labor movements and populist ideas that changed the nation's course at a pivotal time in its history.
About the Author
---
Thomas Alter II is an assistant professor in the department of history at Texas State University.
Praise For…
---
"Alter's Toward a Cooperative Commonwealth is a highly readable, extensively researched contribution to our understanding of Southwestern radicalism. Both seasoned scholars and beginning students will benefit." --Western Historical Quarterly

"Masterful. . . . Alter's clear writing and well-argued analysis provides students of the Texas Socialist movement a newly congruent foundation. To repeat, this is the book to read first." --Kyle Wilkinson, Labor Online

"This engaging study moves easily from family history to broad movements for justice. It shows farmer-labor alliances as a persistent, important presence from Silesia to Texas. Alter tells a fascinating story of how solidarity with Mexican revolutionaries challenged white supremacy across borders."--David Roediger, author of The Sinking Middle Class: A Political History

"Alter narrates the rise and fall of an agrarian radical movement in Texas that brought unlikely partners together, albeit temporarily. German origin families such as the Meitzens collaborated with African Americans and Mexican Americans to create a commonwealth based on mutual benefits and centered on land, until reactionary forces in Texas and beyond quashed the movement. Alter's account shows the crucial role of land in the history of class struggle and class alliances."--Sonia Hernández, author of For a Just and Better World: Engendering Anarchism in the Mexican Borderlands, 1900–1938