Immigrants against the State: Yiddish and Italian Anarchism in America (Working Class in American History) (Paperback)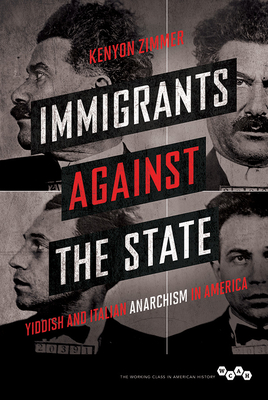 This item is backordered and not currently available. Please contact us for an estimated availability date.
Description
---
From the 1880s through the 1940s, tens of thousands of first- and second-generation immigrants embraced the anarchist cause after arriving on American shores. Kenyon Zimmer explores why these migrants turned to anarchism, and how their adoption of its ideology shaped their identities, experiences, and actions.
 
Zimmer focuses on Italians and Eastern European Jews in San Francisco, New York City, and Paterson, New Jersey. Tracing the movement's changing fortunes from the pre–World War I era through the Spanish Civil War, Zimmer argues that anarchists, opposed to both American and Old World nationalism, severed all attachments to their nations of origin but also resisted assimilation into their host society. Their radical cosmopolitan outlook and identity instead embraced diversity and extended solidarity across national, ethnic, and racial divides. Though ultimately unable to withstand the onslaught of Americanism and other nationalisms, the anarchist movement nonetheless provided a shining example of a transnational collective identity delinked from the nation-state and racial hierarchies.
About the Author
---
Kenyon Zimmer is an assistant professor of history at the University of Texas at Arlington.
Praise For…
---
"Zimmer has produced a powerful text that brings to life numerous forgotten rebels and significantly expands our understanding of anti-statist social movements in the first half of the twentieth century… This immaculately researched and carefully composed monograph thus sets a new bar for the study of anarchism."--Anarchist Studies

"Most students of US radicalism have long assumed that anarchism was brought to the US in the late 19th and early 20th centuries by immigrants from eastern and southern Europe. Zimmer demonstrates that the real story is more complicated. Recommended."--Choice

"Zimmer's archival research is impressive… a fascinating examination of the interplay of individuals of various ethnicities… involved with anarchism and its sympathizers in San Francisco."--International Review of Social History

"Well researched and eloquent."--Jewish Book Council

"This is likely to be an essential work on immigrant anarchism for years to come."--H-Net Reviews

"Drawing on an impressive and unprecedented array of Yiddish- and Italian-language sources, Zimmer details both the ideological connections and ethnocultural obstacles that supported and separated anarchist communities. . . . Zimmer's research and scope is encyclopedic. . . . Zimmer's fine book is indispensable."--The Journal of American History

"Immigrants against the State breaks new ground in anarchist history and offers a timely contribution to the knowledge of immigrant radicalism, past and present. It is essential reading for students and scholars of radical and immigration history, and for anyone interested in exploring immigrant lives marked by a transnational collective identity that embraced diversity regardless of the national, ethnic and racial divides.--Labour History

"A vitally important transnational work that makes significant interventions into the historiography of immigration, anarchism, labor and the working class, and late-nineteenth to early twentieth-century politics."--American Historical Review

"An extraordinarily well-documented and stimulating read."--Italian American Review

"A beautiful, exceptionally well-researched work of transnational history."--Canadian Journal of History

"Admirably, the author uses Italian- and Yiddish-language sources to produce one of the most extensive accounts of anarchism in twentieth-century America. One of the best histories of anarchism in the United States."--Tony Michels, author of A Fire in Their Hearts: Yiddish Socialists in New York

"I have been waiting for a book like this for a long time, one that tells of the multiethnic and transnational world of early twentieth-century anarchism, not just from the perspective of the notorious figures, but from the grass roots. Zimmer is both a highly gifted storyteller and a meticulous, careful researcher whose account follows this history through a truly astonishing range of sources in Yiddish, Italian, Spanish, German, and English, from archives across the globe. This is the new generation of transnational working-class history at its very best."--Jennifer Guglielmo, author of Living the Revolution: Italian Women's Resistance and Radicalism in New York City, 1880–1945

"A century ago, anarchists were everywhere, a movement in constant movement. Having mastered the languages of the two largest groups of immigrant anarchists in the United States, Kenyon Zimmer paints intimate portraits of their Yiddish- and Italian-speaking worlds. The book will be required reading for all scholars of immigrant radicalism. More broadly, anyone interested in the complex intersections of class, mobility, and culture in our own times will find much to ponder in the cosmopolitanism and internationalism immigrants created as they responded to the violent nationalist politics of their own times."--Donna R. Gabaccia, author of Immigration and American Diversity: A Social and Cultural History