Twelve Ways to Save Democracy in Wisconsin (Paperback)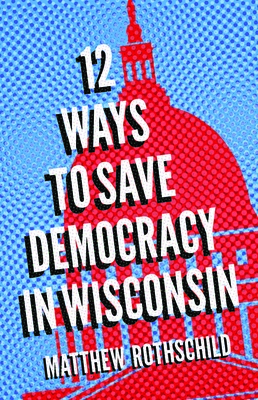 List Price: $21.95
Our Price: $18.66
(Save: $3.29 15%)
Warehouse, In Stock | Usually Ships in 1-5 Days | New
Description
---
Wisconsin, once a progressive stronghold led by Robert La Follette and others, inaugurated far-reaching reforms that broadened public involvement in civic affairs. A wave of innovative social programs aimed at making the state more egalitarian followed. In recent decades, however, the Badger State has become a laboratory for antidemocratic maneuvers that have increased the political influence of the super-rich and corporations while decreasing the power of voters.
 
From tightening campaign finance laws and banning gerrymandering to rooting out structural racism and moving toward economic equality, each chapter focuses on one of the dozen reforms that are required to heal democracy within the state. Rothschild provides an in-depth rationale for each, dismantling the counterarguments against them and exploring the complexities involved in implementing them. He offers concrete proposals and action items for grassroots organizers and concerned community advocates to restore constituent control of state politics. This pocket-sized handbook is essential for politically aware citizens as well as journalists and watchdogs who see Wisconsin as a crucial battleground state and political bellwether for the nation.
About the Author
---
Matthew Rothschild is the executive director of the Wisconsin Democracy Campaign and a former editor and publisher of The Progressive magazine. He is the author of You Have No Rights: Stories of America in an Age of Repression and the editor of Democracy in Print: The Best of The Progressive Magazine, 1909–2009.
Praise For…
---
"No one's more qualified than Rothschild to write a book exposing how Wisconsin government morphed from being a shining light for the nation into one of the country's most antidemocratic states. He gives us an easy-to-follow plan on how we can restore the state's reputation for honest and innovative leadership."—Dave Zweifel, editor emeritus of
The Capital Times
"Rothschild explains exactly what needs to be done to return Wisconsin to its status as the most democratic of these United States. This book is a pleasure to read, chock full of valuable research and original insights. He is a writer who will not waste your time."—Robert McChesney, author of
People Get Ready
"Essential for politically aware citizens as well as journalists and watchdogs who see Wisconsin as a crucial battleground state and political bellwether for the nation. . . . [This] should be mandatory reading by every citizen of voting age as a kind of political DIY survival guide for democracy. Simply stated,
12 Ways To Save Democracy
should be a part of every highschool civics class curriculum and every college, university, and community library Contemporary Political Science collection throughout the state of Wisconsin - and beyond!"—
Midwest Book Review
"A must read. Not just for the sake of Wisconsin, but for the entire country, and many states around the country."—Brian G. Gilmore,
Medium
"What's unique about the book is the way he spells out the problems and then includes the arguments from those who don't believe they are problems at all. He then proceeds to explain why those arguments are wrong. . . . It's well worth the read."—Dave Zweifel, The Capital Times