Utopia (Paperback)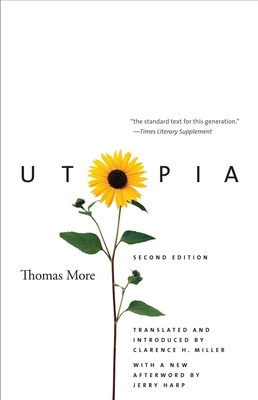 List Price: $9.95
Our Price: $8.46
(Save: $1.49 15%)
Description
---
"This translation offers a fresh and vital encounter with Thomas More's Utopia for a twenty-first century audience."—Elizabeth McCutcheon, Utopian Studies
 
Saint Thomas More's Utopia is one of the most important works of European humanism and serves as a key text in survey courses on Western intellectual history, the Renaissance, political theory, and many other subjects. In Utopia, More introduces the mysterious traveler Raphael Hythloday, who tells of an island nation that he considers the most perfectly organized and harmonious in the world. Preeminent More scholar Clarence H. Miller does justice to the full range of More's rhetoric in this masterful translation. In an Afterword to this edition, Jerry Harp contextualizes More's life and Utopia within the wider frames of European humanism and the Renaissance.
About the Author
---
Clarence H. Miller, emeritus professor of English Literature at St. Louis University, served as executive editor of the fifteen-volume Yale Edition of The Complete Works of St. Thomas More. Jerry Harp, a poet and a Renaissance scholar, is assistant professor of English at Lewis and Clark College.
Praise For…
---
"This translation offers a fresh and vital encounter with Thomas More's Utopia for a twenty-first century audience."—Elizabeth McCutcheon, Utopian Studies

"Clarence H. Miller's fine translation tracks the supple variations of More's Latin with unmatched precision, and his Introduction and notes are masterly. Jerry Harp's new Afterword adroitly places More's wonderful little book into its broader contexts in intellectual history."—George M. Logan, author of The Meaning of More's "Utopia"

"Sir Thomas More's Utopia is not merely one of the foundational texts of western culture, but also a book whose most fundamental concerns are as urgent now as they were in 1516 when it was written. Clarence H. Miller's wonderful translation of More's classic is now happily once again available to readers. This is the English edition that best captures the tone and texture of More's original Latin, and its notes and Introduction, along with the lively Afterword by Jerry Harp, graciously supply exactly the kinds of help a modern reader might desire."—David Scott Kastan, Yale University