A Little History of Philosophy (Little Histories) (Paperback)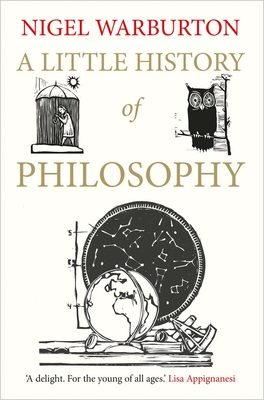 List Price: $15.00
Our Price: $12.75
(Save: $2.25 15%)
Warehouse, In Stock | Usually Ships in 1-5 Days | New
Description
---
For readers of E. H. Gombrich's A Little History of the World, an equally irresistible volume that brings history's greatest philosophers to life
 
"A primer in human existence: philosophy has rarely seemed so lucid, so important, so worth doing and so easy to enter into. . . . A wonderful introduction for anyone who's ever felt curious about almost anything."—Sarah Bakewell, author of How To Live: A Life of Montaigne in One Question and Twenty Attempts at an Answer
 
Philosophy begins with questions about the nature of reality and how we should live. These were the concerns of Socrates, who spent his days in the ancient Athenian marketplace asking awkward questions, disconcerting the people he met by showing them how little they genuinely understood. This engaging book introduces the great thinkers in Western philosophy and explores their most compelling ideas about the world and how best to live in it.
 
In forty brief chapters, Nigel Warburton guides us on a chronological tour of the major ideas in the history of philosophy. He provides interesting and often quirky stories of the lives and deaths of thought-provoking philosophers from Socrates, who chose to die by hemlock poisoning rather than live on without the freedom to think for himself, to Peter Singer, who asks the disquieting philosophical and ethical questions that haunt our own times.
 
Warburton not only makes philosophy accessible, he offers inspiration to think, argue, reason, and ask in the tradition of Socrates. A Little History of Philosophy presents the grand sweep of humanity's search for philosophical understanding and invites all to join in the discussion.
About the Author
---
Nigel Warburton is a freelance philosopher, bestselling author of many popular introductions to philosophy, and co-host of the much-loved Philosophy Bites podcast. He lives in Oxford, UK.
Praise For…
---
"Survey the entire history of (western) philosophy through short intellectual biographies of 40 philosophers from Socrates to Peter Singer, in as broadly approachable a style as E. H. Gombrich's A Little History of the World. A tall order; that Warburton (of the excellent podcast Philosophy Bites) has succeeded so well is a triumph."—Steven Poole, The Guardian

"Forty short chapters offer an informative, clear guide to forty major Western philosophers. Warburton's casual, conversational style belies the erudition that has gone into his book."—Katie Owen, Sunday Telegraph

"This brisk primer is, for the neophyte, a good place to start immersing oneself in the history of Western thought."—Publishers Weekly

"A charming read."—Christian Century

"The book has a certain quality that comes from accepting a challenge under severe conditions, then taking it on without making a big deal of the whole thing. And the word for that quality is grace."—Scott McLemee, Inside Higher Ed

"With this sweeping and enjoyable work the author affirms that deliberating on reality and questioning how our lives are best lived is still worth the trouble."—PopMatters

"If you are looking for a book about philosophy, Nigel Warburton's A Little History of Philosophy is the place to begin. . . . Accessible, funny and informative."—Sacramento News and Review

"A primer in human existence: philosophy has rarely seemed so lucid, so important, so worth doing and so easy to enter into. It's refreshing to see the subject presented in terms of the history of ideas rather than of timeless concepts. A wonderful introduction for anyone who's ever felt curious about almost anything."—Sarah Bakewell, author of How To Live: A Life of Montaigne in One Question and Twenty Attempts at an Answer

"A lively and eye-catching book, written in an easy style which should have splendid appeal for a young audience."—Peter Cave, author of Can a Robot be Human?: 33 Perplexing Philosophy Puzzles