The Long, Long Life of Trees (Paperback)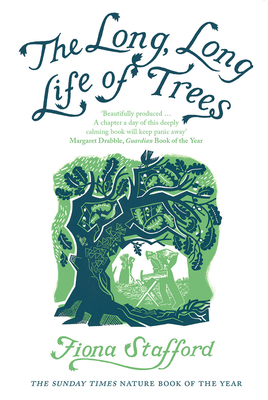 List Price: $18.00
Our Price: $15.30
(Save: $2.70 15%)
Description
---
A lyrical tribute to the diversity of trees, their physical beauty, their special characteristics and uses, and their ever-evolving meanings

Since the beginnings of history trees have served humankind in countless useful ways, but our relationship with trees has many dimensions beyond mere practicality. Trees are so entwined with human experience that diverse species have inspired their own stories, myths, songs, poems, paintings, and spiritual meanings. Some have achieved status as religious, cultural, or national symbols.
 
In this beautifully illustrated volume Fiona Stafford offers intimate, detailed explorations of seventeen common trees, from ash and apple to pine, oak, cypress, and willow. The author also pays homage to particular trees, such as the fabled Ankerwyke Yew, under which Henry VIII courted Anne Boleyn, and the spectacular cherry trees of Washington, D.C. Stafford discusses practical uses of wood past and present, tree diseases and environmental threats, and trees' potential contributions toward slowing global climate change. Brimming with unusual topics and intriguing facts, this book celebrates trees and their long, long lives as our inspiring and beloved natural companions.
About the Author
---
Fiona Stafford is professor of English language and literature, University of Oxford. She is author and presenter of two highly acclaimed series for BBC Radio 3 titled The Meaning of Trees. She lives in Bucks, UK.
Praise For…
---
"Everywhere [Stafford's] eye for detail brings the trees to life. . . . The Long, Long Life of Trees is elegant, engaging, impeccably written and packed with interest."—John Carey, Sunday Times

"Nature Book of the Year."—Sunday Times

"Beautifully produced, and each chapter describes a different species, from the dark yew to the friendly apple. . . . A chapter a day of this calming book will keep panic away."—Margaret Drabble, The Guardian "Books of the Year 2016"

"To describe a book as enchanting is usually to condescend it. Not this time. Fiona Stafford's enchanting study is also stoutly built, plainly and stylishly written, admirably achieved as to both artistry and pedagogy, and as gripping as a good thriller, replete with plots and character."—Fred Inglis, Times Higher Education Supplement

"A leisurely, lyrical reflection on 17 different species, from apple to yew, with special emphasis on the role that each has played in art and literature, myth and legend, medicine and technology. . . . Readers intrigued by the nexus between the cultural and the arboreal will enjoy her book."—Gerard Helferich, Wall Street Journal

"For her book in celebration of trees, Fiona Stafford has done a prodigious amount of research . . . this is a very rich mixture – a great arboreal gallimaufry."—Derwent May, Times Literary Supplement

"[Stafford] is a gifted writer."—Thomas Pakenham, New York Review of Books

"Beautifully written. . . . It is evident that Stafford had fun writing this book, and this makes it fun to read."—Choice

"A poetic tribute to trees and their beauty, characteristics, and diverse histories. The book goes beyond our utilitarian need for trees and delves into the emotional and spiritual connections we have with them."–Stephanie George, American Gardner magazine

"The Long, Long Life of Trees is a combination of personal commentary on Fiona Stafford's love and appreciation of trees, coupled with a wealth of well-researched and fascinating examples of how trees have featured in history, art, commerce, culture and folklore. The book really helps to underline the importance of trees – past and present – and their continuing contribution as a force for good despite the many competing forces pitched against them over the centuries."—The Woodland Trust



"A book that would grace any book shelf. It is entertaining and informative for the enthusiastic dendrologist, and the casual reader."—Colin How, Methodist Recorder
— Colin How