The Origins of Victory: How Disruptive Military Innovation Determines the Fates of Great Powers (Hardcover)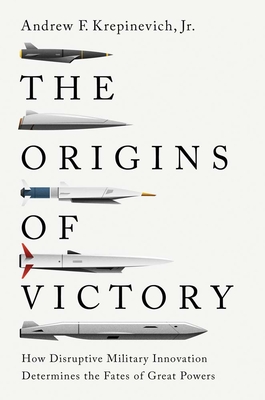 List Price: $40.00
Our Price: $34.00
(Save: $6.00 15%)
Warehouse, In Stock | Usually Ships in 1-5 Days | New
Description
---
How the character of war is changing and how militaries can successfully adapt to meet the challenge
 
This book by military strategist Andrew F. Krepinevich, Jr., is the definitive take on the race for military dominance in the twenty-first century. It shows how militaries that successfully pursue disruptive innovation can gain a major advantage over their rivals, while those that fail to do so risk exposing their countries to great danger.
 
The Precision Warfare Revolution introduced by the U.S. military in the First Gulf War found the United States enjoying a near monopoly in this form of warfare for several decades. But now other powers have these capabilities. The U.S. military also confronts an emerging military revolution driven by advances across a wide range of technologies—from artificial intelligence and synthetic biology to quantum computing and additive manufacturing.
 
To stay competitive, the U.S. military must pursue disruptive innovation in a race with other militaries to exploit war's changing character. Clues exist as to the winner's identity. They are revealed by militaries that went beyond the bounds of mere innovation to overturn the existing forms of warfare, changing the course of history and the fate of nations. Through exploring their experiences, Krepinevich shows how the U.S. military can win the race to identify and exploit the "next big thing" in warfare.
About the Author
---
Andrew F. Krepinevich, Jr., is a West Point and Harvard graduate, award-winning author, and prominent military strategist. His books on military strategy and history include The Last Warrior, Seven Deadly Scenarios, and The Army and Vietnam. He lives in Leesburg, VA.
Praise For…
---
"An insightful exploration."—Zachery Tyson Brown, Parameters

"Krepinevich's thoughts on the changing face of war should be read by serious strategic thinkers. He makes a compelling case as to how and why America's military, and those of its key allies, must pursue 'disruptive innovation' to address the growing threat from China and Russia."—Nobukatsu Kanehara, Former Deputy National Security Adviser to the Prime Minister of Japan

"In this analytic tour de force Krepinevich delivers a graduate degree in military adaptation. Historically grounded and forward looking, his analysis validates urgently needed guideposts ensuring what we do today can confound the security threats of tomorrow."—General Jim Mattis, U.S. Marines (retired) and 26th Secretary of Defense

"Krepinevich, one of this country's most thoughtful and creative strategists, has spent a distinguished career studying military revolutions. His latest work draws on decades of research and reflection and is essential and compelling reading for scholars, policy makers, and military officers alike."—Aaron L. Friedberg, Princeton University

"Andrew Krepinevich provides a stark warning of what failures await the US military if we do not change course with a sense of urgency. An essential read for those entrusted with keeping our nation safe."—Congressman Mike Gallagher