In Search of the River Jordan: A Story of Palestine, Israel and the Struggle for Water (Hardcover)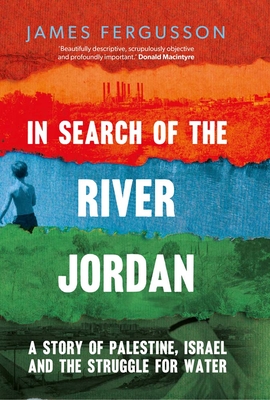 List Price: $30.00
Our Price: $25.50
(Save: $4.50 15%)
Warehouse, In Stock | Usually Ships in 1-5 Days | New
Description
---
A writer's travels along the legendary yet contested Jordan River—exploring the long conflict over water supply
 
Access to water has played a pivotal role in the Israel-Palestine dispute. Israel has diverted the River Jordan via pipes and canals to build a successful modern state. But this has been at the expense of the region's cohabitants. Gaza is now so water-stressed that the United Nations has warned it could soon become uninhabitable; its traditional water source has been ruined by years of over-extraction and mismanagement, the effects exacerbated by years of crippling blockade.
 
Award-winning author and journalist James Fergusson travels to every corner of Israel and Palestine telling the story of the River Jordan and the fierce competition for water. Along the way, he meets farmers, officials, soldiers, refugees, settlers, rioting youth, religious zealots, water experts, and engineers on both sides of the Green Line. Fergusson gives voice to the fears and aspirations of the region's inhabitants and highlights the centrality of water in negotiating future peace.
About the Author
---
James Fergusson is a freelance journalist and foreign correspondent who has written for many publications, including The Independent, The Times, the Daily Telegraph, the Daily Mail, and The Economist. He is the author of seven books, including the award-winning A Million Bullets.
Praise For…
---
"James Fergusson gives the reader a vivid understanding of the intricacies of occupation in Israel-Palestine by showing how the issue of water has been weaponised. The book describes the strange geography of the River Jordan and the vanishing Dead Sea, and gives lively descriptions of people and places along the way."—Raja Shehadeh, author of We Could Have Been Friends, My Father and I: A Palestinian Memoir
"In this beautifully descriptive, scrupulously objective, and profoundly important book, James Fergusson exposes the shamefully unequal allocation of vital water resources between Israelis and Palestinians – while daring to dream that righting this wrong could be a first step towards a just peace."—Donald Macintyre, author of Gaza: Preparing for Dawn
"Presents a vivid and enlightening new angle on the Middle East's most intractable conflict. Fergusson's book is both a highly readable and engaging travelogue and a nuanced political analysis of the balance of power in contemporary Israel-Palestine."—William Sutcliffe, author of The Wall 
"A beautifully conceived and written book. That contemporary Israel-Palestine is a land of both environmental destruction and hydro-apartheid is not news. But in Fergusson's hands, these brute realities are revealed in the most sensitive, compelling and accessible of styles."—Jan Selby, author of Water, Power and Politics in the Middle East
"James Fergusson's meticulous search for each rivulet, stream, mountain aquifer, sewage pipe and desalination plant concludes with a crystal-clear vision of an ecological reconciliation. Anyone interested in peace should read this book."—Nick Thorpe, author of The Road Before Me Weeps