Niceville: Book One of the Niceville Trilogy (Paperback)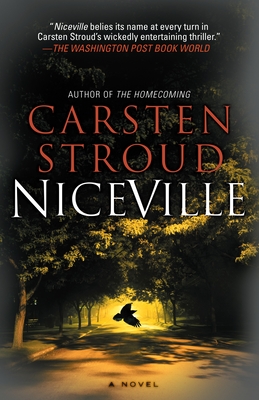 List Price: $14.95
Our Price: $14.20
(Save: $0.75 5%)
Other Books in Series
This is book number 1 in the The Niceville Trilogy series.
Description
---
Rainey Teague disappears on his way home from school, literally vanishing into thin air. He's there one moment and gone the next, captured on security cameras. After he is found, the nightmare only gets deeper, especially for detective Nick Kavanaugh and his wife, Kate, a family practice lawyer. They have all been drawn into a shadow world between life and death--a world where a man killed on Friday night is in a duel on Sunday, where an armed robbery triggers a disastrous cascade of events that ricochets across twenty different lives, and where Nick and Kate will come face to face with the ancient force of anger and evil that lurks beneath Niceville.
 
About the Author
---
Carsten Stroud is the author of the New York Times bestselling true crime account Close Pursuit. His novels include Sniper's Moon, Lizard Skin, Black Water Transit, Cuba Strait, and Cobraville. He lives in Toronto.
Praise For…
---
"NICEVILLE and THE HOMECOMING, by Carsten Stroud: crazy-good supernatural/crime/horror epic. Blew me away. Really one novel. You've never read anything like it. Faulkner crossed with Steve King." 
 --Stephen King

"Niceville belies its name at every turn in Carson Stroud's wickedly entertaining thriller."
    —The Washington Post Book World

"Terrific dialogue, oddball characters, and a wild story make this a great read."
    —Elmore Leonard

"Strange, outrageous and wonderful. . . . Superior storytelling. . . . [If] you savor the blackest of comedy and fear that evil is all around us, embodied, in both flesh-and-blood and supernatural creatures, then you might enjoy this toxic tale."
    —The Washington Post
 
"Glorious. . . . Stroud manages to combine just about all the pulp genres you can imagine in his tale—hard-boiled noir, supernatural horror, Southern gothic melodrama, multigenerational family tragedy. . . . [with his] gifts for flat-out storytelling and sharp characterization."
    —Entertainment Weekly

"[A] thrill-ride. . . . As enthralling as a tale by the Brothers Grimm."
    —The Wall Street Journal

"Mesmerizing. . . . Niceville has claws as sharp as the soaring crows' talons."
    —South Florida Sun-Sentinel

"Terrific. . . . A mystery but also a ghost story, with a touch of horror. . . . This is a very sharp . . . view of traditional Southern Gothic."
    —The Globe and Mail (Toronto)

"A unique genre-bending novel that will haunt readers long after the last page. . . . Niceville is a town readers have to visit for themselves in order to believe."
    —The Free Lance-Star

"The last time I was so swiftly taken over by a work of fiction was probably when I read A Game of Thrones. Carsten Stroud's wonderful Niceville isn't really much like George R. R. Martin's fantasy novel, apart from being equally hard-boiled and engrossing, but it rockets around its deceptively staid Southern town, pulling bad guys and worse guys and long-ago misdeeds into a widening and unfolding tale about every kind of wickedness. Somehow it manages to get tighter, nastier, and more delightful as it rolls along toward its lovely and completely black-hearted final pages."
    —Peter Straub

"A simmering read; one part thriller, one part suspense, and taken with a hefty sprinkling of supernatural hot spice, it's one of the most compulsive page-turners of the year."
    —The New York Journal of Books

 "[Stroud] literally gives plenty of bang for the buck."
    —Booklist

"A compelling work that grabs your attention from page one."
    —Karin Slaughter

"Think Stephen King crossed with Mickey Spillane."
    —Open Letters Monthly

"A truly one-of-a-kind tour de force, Niceville may be hard to categorize by genre, but it's easy to describe as a reading experience—wildly, insanely entertaining."  
    —John Lescroart