Soft Spots: A Marine's Memoir of Combat and Post-Traumatic Stress Disorder (Paperback)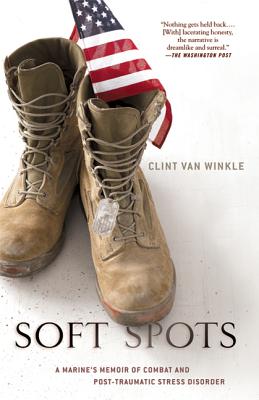 List Price: $19.99
Our Price: $16.99
(Save: $3.00 15%)
Warehouse, In Stock | Usually Ships in 1-5 Days | New
Description
---
A powerful, haunting, provocative memoir of a Marine in Iraq—and his struggle with Post Traumatic Stress Disorder in a system trying to hide the damage done

Marine Sergeant Clint Van Winkle flew to war on Valentine's Day 2003. His battalion was among the first wave of troops that crossed into Iraq, and his first combat experience was the battle of Nasiriyah, followed by patrols throughout the country, house to house searches, and operations in the dangerous Baghdad slums.

But after two tours of duty, certain images would not leave his memory—a fragmented mental movie of shooting a little girl; of scavenging parts from a destroyed, blood-spattered tank; of obliterating several Iraqi men hidden behind an ancient wall; and of mistakenly stepping on a "soft spot," the remains of a Marine killed in combat. After his return home, Van Winkle sought help at a Veterans Administration facility, and so began a maddening journey through an indifferent system that promises to care for veterans, but in fact abandons many of them.

From riveting scenes of combat violence, to the gallows humor of soldiers fighting a war that seems to make no sense, to moments of tenderness in a civilian life ravaged by flashbacks, rage, and doubt, Soft Spots reveals the mind of a soldier like no other recent memoir of the war that has consumed America.
About the Author
---
Clint Van Winkle served for eight years in the United States Marine Corps, earning the rank of sergeant. While in Iraq he served as an Amphibious Assault Vehicle section leader, attached to Lima Company 3rd BN 1st Marines, and commanded eighteen other Marines. After two tours of duty, he returned to earn a BA in English from Arizona State University, then a MA in Creative Writing and Media from the University of Wales-Swansea. He is the author of Soft Spots: A Marine's Memoir of Combat and Post-Traumatic Stress Disorder. He lives with his wife in Chesapeake, Virginia.
Praise For…
---
"Nothing gets held back in Soft Spots, Clint Van Winkle's account of his two years of duty as a Marine sergeant in Iraq...lacerating honesty, the narrative is dreamlike and surreal." —The Washington Post

"Van Winkle doesn't attempt to analyze the wrongs or rights of the Iraq war, engage in political arguments, or blame politicians. He saves his energies for willing his fellow Marines to come home from Iraq alive and in one piece." —Washington City Paper

"[Van Winkle's] book describes his spiral from the inanity of war to the insanity of the world-weary...Happy trails? No. Trauma? Yes, this is how one veteran carries his war." —Army Times, Navy Times, Air Force Times, Marine Corps Times

"'Soft Spots' is a survival story, not just of combat but the mental warfare that follows, the oppressive nightmares that flesh is heir to, but mostly, it's a restoration of what's human, an unflinching stab at forgiveness, desperately in search of a meaning. Van Winkle, who spent much of his childhood in Charleston, now gives voice to the thousands of forgotten soldiers returning home from Iraq, or those whose souls are still stuck there. He gives us his poor haunted head, only mapped out and numbered, and the effect will make you weep." —postandcourier.com