The New Reagan Revolution: How Ronald Reagan's Principles Can Restore America's Greatness (Paperback)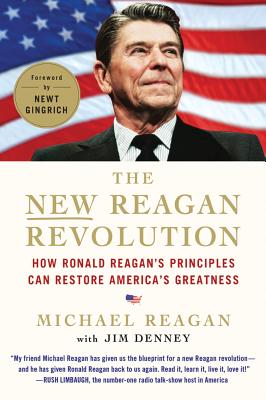 List Price: $23.99
Our Price: $20.39
(Save: $3.60 15%)
Warehouse, In Stock | Usually Ships in 1-5 Days | New
Description
---
"We must go forth from here united, determined that what a great general said a few years ago is true: There is no substitute for victory." –Ronald Reagan, 1976 Republican National Convention


The New Reagan Revolution reveals new insights into the life, thoughts, and actions of the man who changed the world during the 1980s. The challenges and threats we face today are eerily similar to the conditions in the world before the beginning of the Reagan era. The good news is that we already know what works. Ronald Reagan has given us the blueprint. This book is not merely a diagnosis of our nation's ills, but a prescription to heal our nation. In these pages, you'll find a plan for returning America to its former greatness, soundness, and prosperity. It's the plan Ronald Reagan developed over years of study, observation, and reflection. It's a plan he announced to the nation, straight from his heart, when he was called to the podium during the 1976 Republican National Convention. It's the plan he put into action during his eight years in office as the most effective president of the 20th century. This plan saved America once and can do so again.

"Ronald Reagan brought America back from the brink of economic ruin and tossed the Evil Empire into the dustbin of history. That is why I call him, with true reverence and the highest of esteem, Ronaldus Magnus. Now his elder son, Michael Reagan, has written the definitive book on Ronald Reagan's vision and achievements. He writes from a close-up perspective no other conservative can match. My friend, Michael Reagan has given us the blueprint for a new Reagan revolution—and he has given Ronald Reagan back to us again. Read it, learn it, live it, love it!" —Rush Limbaugh, the #1 radio talk show host in America

"Ronald Reagan issued a call to arms and led a revolution against those who claimed that America's best days were behind her. He restored our crumbling economy and collapsed the Soviet Union. Today, Michael Reagan calls us back to Ronald Reagan's principles, which saved America once—and can do so again. The New Reagan Revolution is a practical agenda for refreshing the tree of liberty and returning America to her constitutional roots. This book tells you what you can do to preserve the legacy of freedom for your children and grandchildren. Read it—then live it." –Mark Levin, talk show host and New York Times bestselling author of Liberty and Tyranny

"From a perspective of Ronald Reagan that no one else can offer, Michael Reagan not only shares with us poignant, revealing stories about his father, but takes us inside the mind of the man who inspired a rekindling of America's founding ideals and with them a reawakening of the American spirit. Even better, Michael shows us how the application of these timeless principles can lead us to overcome the most difficult challenges we currently face as a nation -- challenges that are strikingly similar to those Ronald Reagan confronted and conquered." --David Limbaugh, #1 New York Times bestselling author of Crimes Against Liberty

"Michael Reagan, the elder son of the greatest president of the 20th century, has written the Reaganite roadmap for restoring America's greatness. Only Michael Reagan could have written a book which embraces the full range of Ronald Reagan's intellect and spirit, from his unyielding toughness at Reykjavík and Berlin to his deep compassion for the oppressed. He shows us how to apply the timeless principles of Reagan conservatism to the fast-changing world in which we live. Must reading for every true conservative." —Newt Gingrich, Former Speaker of the House

"Who better than Michael Reagan to explain to us how Ronald Reagan is not only a great man of history but also a visionary for our future? The New Reagan Revolution is a must read for those who are interested in our past and worried about what tomorrow might bring. Bravo!"--Peter Schweizer, author of Reagan's War: The Epic Story of His Forty-Year Struggle and Final Triumph Over Communism
About the Author
---
Michael Reagan is the son of former President Ronald Reagan and Academy Award Winning Actress Jane Wyman. He has authored many successful books including his autobiography On the Outside Looking In and Twice Adopted. He is a popular national speaker on issues ranging from politics to adoption, and hosted a live radio show for more than 26 years (including 17 years in national syndication). He is president of The Reagan Legacy Foundation, serves on the board of The John Douglas French Alzheimer's Foundation, and is the national spokesperson for My Stuff Bags Foundation (which aids children rescued from abuse and neglect). In 2005, he established the Michael Reagan Center for Advocacy and Research in partnership with Arrow Child and Family Ministries.

Michael Reagan and his wife Colleen live in California.
Jim Denney
has written over 80 books in collaborated with many authors. His previous books with Michael Reagan include
The City on a Hill
, and
The Common Sense of an Uncommon Man: The Wit, Wisdom and Eternal Optimism of Ronald Reagan
.
Newt Gingrich
, former Speaker of the House, is the author of several bestselling books, including
Valley Forge
,
To Try Men's Souls
,
Pearl Harbor
and
Gettysburg
(all with William R. Forstchen). He is a member of the Defense Policy Board and co-chair of the UN Task Force, is the longest-serving teacher of the Joint War Fighting course for Major Generals, and served in Congress for twenty years. He is also the founder of the Center for Health Transformation.
Praise For…
---
"Ronald Reagan brought America back from the brink of economic ruin and tossed the Evil Empire into the dustbin of history. That is why I call him, with true reverence and the highest of esteem, Ronaldus Magnus. Now his elder son, Michael Reagan, has written the definitive book on Ronald Reagan's vision and achievements. He writes from a close-up perspective no other conservative can match. My friend, Michael Reagan has given us the blueprint for a new Reagan revolution--and he has given Ronald Reagan back to us again. Read it, learn it, live it, love it!" —Rush Limbaugh, the #1 radio talk show host in America

"Ronald Reagan issued a call to arms and led a revolution against those who claimed that America's best days were behind her. He restored our crumbling economy and collapsed the Soviet Union. Today, Michael Reagan calls us back to Ronald Reagan's principles, which saved America once—and can do so again. The New Reagan Revolution is a practical agenda for refreshing the tree of liberty and returning America to her constitutional roots. This book tells you what you can do to preserve the legacy of freedom for your children and grandchildren. Read it—then live it." —Mark Levin, talk show host and New York Times bestselling author of Liberty and Tyranny

"From a perspective of Ronald Reagan that no one else can offer, Michael Reagan not only shares with us poignant, revealing stories about his father, but takes us inside the mind of the man who inspired a rekindling of America's founding ideals and with them a reawakening of the American spirit. Even better, Michael shows us how the application of these timeless principles can lead us to overcome the most difficult challenges we currently face as a nation -- challenges that are strikingly similar to those Ronald Reagan confronted and conquered." —David Limbaugh, #1 New York Times bestselling author of Crimes Against Liberty

"Michael Reagan, the elder son of the greatest president of the 20th century, has written the Reaganite roadmap for restoring America's greatness. Only Michael Reagan could have written a book which embraces the full range of Ronald Reagan's intellect and spirit, from his unyielding toughness at Reykjavík and Berlin to his deep compassion for the oppressed. He shows us how to apply the timeless principles of Reagan conservatism to the fast-changing world in which we live. Must reading for every true conservative." —Newt Gingrich, Former Speaker of the House

"Who better than Michael Reagan to explain to us how Ronald Reagan is not only a great man of history but also a visionary for our future? The New Reagan Revolution is a must read for those who are interested in our past and worried about what tomorrow might bring. Bravo!" —Peter Schweizer, author of Reagan's War: The Epic Story of His Forty-Year Struggle and Final Triumph Over Communism