"B" is for Burglar: A Kinsey Millhone Mystery (Kinsey Millhone Alphabet Mysteries #2) (Mass Market)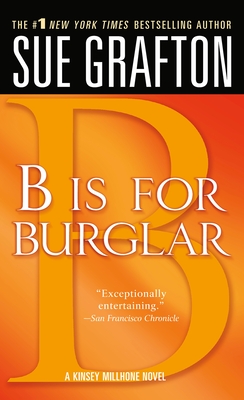 List Price: $9.99
Our Price: $8.49
(Save: $1.50 15%)
Warehouse, In Stock | Usually Ships in 1-5 Days | New
Other Books in Series
This is book number 2 in the Kinsey Millhone Alphabet Mysteries series.
Description
---
B is for Burglar, from Sue Grafton's #1 New York Times bestselling Kinsey Millhone Alphabet mystery series

Although business has been slow lately for P.I. Kinsey Millhone, she's reluctant to take on the case of locating Beverly Danziger's sister Elaine Boldt. It's a small matter that Beverly should be able to handle herself. So why is she enlisting Kinsey's services? Beverly claims she needs Elaine's signature on some documents so that she can collect a small inheritance. But the whole affair doesn't sit well with Kinsey. And if there's something she's learned in her line of work, it's to always follow your instincts…

Kinsey's hunch proves true when she begins her inquiries into Elaine's whereabouts and discovers that the attractive widow was last seen in a flashy lynx coat boarding a plane for Boca Raton. But the more Kinsey searches for Elaine the more questions she encounters. Is Elaine's disappearance tied in to the brutal murder several months ago of one of her bridge partners? And what happened to Elaine's Persian cat who seems to have also vanished?

Things take a turn for the worse when a stranger vandalizes the home of one of Elaine's neighbors and another neighbor turns up murdered. With her reputation and career on the line, Kinsey risks all to find a missing woman and a killer who's waiting in the shadows to strike again…

"A" Is for Alibi
"B" Is for Burglar
"C" Is for Corpse
"D" Is for Deadbeat
"E" Is for Evidence
"F" Is for Fugitive
"G" Is for Gumshoe
"H" Is for Homicide
"I" Is for Innocent
"J" Is for Judgment
"K" Is for Killer
"L" is for Lawless
"M" Is for Malice
"N" Is for Noose
"O" Is for Outlaw
"P" Is for Peril
"Q" Is for Quarry
"R" Is for Ricochet
"S" Is for Silence
"T" Is for Trespass
"U" Is for Undertow
"V" Is for Vengeance
"W" Is for Wasted
"X"
About the Author
---
#1 New York Times bestselling author Sue Grafton (1940-2017) entered the mystery field in 1982 with the publication of 'A' Is for Alibi, which introduced female hard-boiled private investigator, Kinsey Millhone, operating out of the fictional town of Santa Teresa, (aka Santa Barbara) California, and launched the bestselling Kinsey Millhone Alphabet Mysteries. In addition to her books, she published several Kinsey Millhone short stories, and with her husband, Steven Humphrey, wrote numerous movies for television, including "A Killer in the Family" (starring Robert Mitchum), "Love on the Run" (starring Alec Baldwin and Stephanie Zimbalist) and two Agatha Christie adaptations, "Sparkling Cyanide" and "Caribbean Mystery," which starred Helen Hayes. Grafton is published in 28 countries and in 26 languages.
Praise For…
---
"The best new private eye." —The Detroit News

"Exceptionally entertaining…an offbeat sense of humor and a feisty sense of justice." —San Francisco Chronicle

"Millhone is an engaging detective-for-hire…P.I. Kinsey Millhone and her creator…are arguably the best of [the] distaff invaders of the hitherto sacrosanct turf of gumshoes." —The Buffalo News

"Once a fan reads one of Grafton's alphabetically titled detective novels, he or she will not rest until all the others are found." —Los Angeles Herald Examiner

"Millhone is a refreshingly strong and resourceful female private eye." —Library Journal

"Tough but compassionate…There is no one better than Kinsey Millhone." —Best Sellers

"A woman we feel we know, a tough cookie with a soft center, a gregarious loner." —Newsweek

"Lord, how I like this Kinsey Millhone…The best detective fiction I have read in years." —The New York Times Book Review

"Smart, tough, and thorough…Kinsey Millhone is a pleasure." —The Bloomsbury Review

"Kinsey is one of the most persuasive of the new female operatives…She's refreshingly free of gender clichés. Grafton, who is a very witty writer, has also given her sleuth a nice sense of humor--and a set of Wonder Woman sheets to prove it." —Boston Herald

"What grandpa used to call a class act." —Stanley Ellin

"Smart, sexual, likable and a very modern operator." —Dorothy Salisbury Davis

"Kinsey's got brains and a sense of humor." —Kirkus Reviews