Police, Firefighter, and Paramedic Stress: An Annotated Bibliography (Bibliographies and Indexes in Psychology #6) (Hardcover)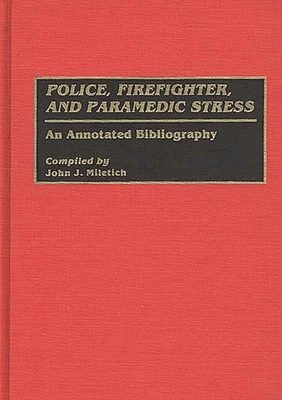 This item is backordered and not currently available. Please contact us for an estimated availability date.
Description
---
Public safety professionals work together in life-and-death situations. During natural or transportation disasters, industrial accidents, shootings, suicides or dozens of other instances, police officers, firefighters, and paramedics are called upon to assist both injured and uninjured people. Although often romanticized in television series and in films, the real-life tasks of public safety professionals are usually unpleasant--restraining violent individuals and removing accident, homicide, and suicide victims from death scenes--and always highly stressful. They are frequently subjected to additional stress when their efforts are criticized by family members of the injured or deceased. Although stress can be harmful, even fatal, police officers, firefighters, and paramedics can have more productive and satisfying lives when they learn to positively control stress, rather than be controlled by it. This English language bibliography consisting of more than 700 references, covering the time period 1945 to early 1989, can help these and other professionals manage stress more effectively. Source publications, all of which are annotated, include books, articles, conference proceedings, theses, government publications, and dissertations. The bibliography section is composed of six chapters addressing psychological and physiological factors, the family, substance abuse, accidents, and suicide, with references arranged alphabetically by author surname. A list of acronyms and author and subject indexes complete the work.
Of paramount importance to police officers, firefighters, and paramedics as well as their families, this bibliography will provide legislators, physicians, nurses, social workers, psychiatrists, psychologists, and sociologists with extensive and substantial documentation on the stress-filled work lives of these public safety professionals.
About the Author
---
JOHN J. MILETICH is Reference Librarian at the University of Alberta, Canada. He is the author of Retirement: An Annotated Bibliography, Work and Alcohol Abuse: An Annotated Bibliography and States of Awareness: An Annotated Bibliography (Greenwood Press, 1986, 1987, and 1988, respectively).