Racism in the United States: A Comprehensive Classified Bibliography (Bibliographies and Indexes in Ethnic Studies #2) (Hardcover)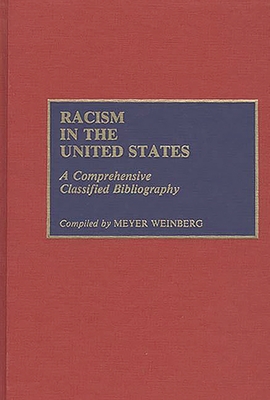 This item is backordered and not currently available. Please contact us for an estimated availability date.
Description
---
This volume represents the most comprehensive book-length bibliography on the subject of racism available in the United States. Compiler Meyer Weinberg has surveyed a wide-ranging group of material and classified it under 87 subject headings, drawing on articles, books, congressional hearings and reports, theses and dissertations, research reports, and investigative journalism. Historical references cover the long history of racism, while the heightened awareness and activity of the recent past is also addressed in detail. In addition to works that fit the narrow definition of racism as a mode of oppression or group denial of rights based on color, Weinberg includes references dealing with sexism, antisemitism, economic exploitation, and similar forms of dehumanization.
References are grouped under a series of subject headings that include Civil Rights, Desegregation, Housing, Socialism and Racism, Unemployment, and Violence against Minorities. Items which do not have self-explanatory titles are annotated, and virtually every section is thoroughly cross-referenced. Also included is one section of carefully selected references on racism in countries other than the United States. Unlike the remainder of the book, this section is not comprehensive, but rather provides an opportunity to view racism comparatively. The volume concludes with an author index. This work will be a significant addition to both academic and public libraries, as well as an important resource for courses in racism, sociology, and black history.
About the Author
---
MEYER WEINBERG was previously a Professor of History at the City College of Chicago He is the author of several books including, The Search for Quality Integrated Education (Greenwood Press, 1983) and America's Economic Heritage (Greenwood Press, 1983).