Thermae Romae, Vol. 2 (Hardcover)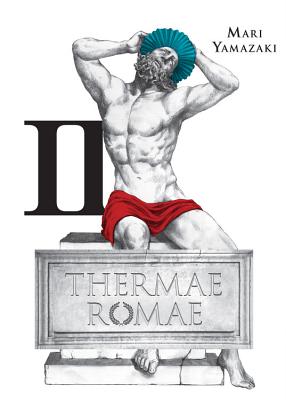 List Price: $34.99
Our Price: $33.24
(Save: $1.75 5%)
Description
---
Whenever Roman architect Lucius is suddenly submerged in water, he
always surfaces to find himself in the land of the "flat-faces," a
people whose appreciation for the public bathhouse matches that of even
the mighty Romans! (Little does he realize that the land of his watery
journeys is in fact the Japan of 1,500 years in the future!) Observing
the strange practices of these foreigners has allowed Lucius to
revolutionize the Roman bathhouse, and public opinion on his
innovations-and on Aelius Caesar, the emperor-to-be to whom these
marvels are attributed-soars. But those in the Senate maintain strong
reservations about the suitability of the emperor-to-be, and they mean
to cut off the flow of support at its source-Lucius!
About the Author
---
Mari Yamazaki was born in Tokyo on April 20, 1967. At age seventeen, she moved to Italy, where she started studying drawing at an art school in Florence. Yamazaki made her manga debut in 1996 with an autobiographical look at her life in Italy. After bouncing around between Japan, the Middle East, and Italy, she finally settled down in Lisbon, Portugal, in 2003. In 2008, she began drawing Thermae Romae for the monthly magazine Comic Beam on an irregular basis, and the first collected volume was a smash hit upon its 2009 release. In 2010, Thermae Romae received the Manga Taisho Award 2010 and the 14th Osamu Tezuka Cultural Prize, Short Story Award.
Mari Yamazaki currently lives in Chicago with her Italian husband and their son.