The Art of X-Ray Reading: How the Secrets of 25 Great Works of Literature Will Improve Your Writing (Paperback)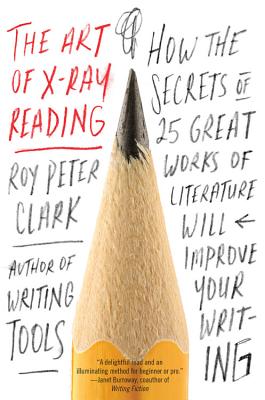 List Price: $16.99
Our Price: $14.44
(Save: $2.55 15%)
Warehouse, In Stock | Usually Ships in 1-5 Days | New
Description
---
Roy Peter Clark, one of America's most influential writing teachers, offers writing lessons we can draw from 25 great texts.

Where do writers learn their best moves? They use a technique that Roy Peter Clark calls X-ray reading, a form of reading that lets you penetrate beyond the surface of a text to see how meaning is actually being made. In The Art of X-Ray Reading, Clark invites you to don your X-ray reading glasses and join him on a guided tour through some of the most exquisite and masterful literary works of all time, from The Great Gatsby to Lolita to The Bluest Eye, and many more. Along the way, he shows you how to mine these masterpieces for invaluable writing strategies that you can add to your arsenal and apply in your own writing. Once you've experienced X-ray reading, your writing will never be the same again.
About the Author
---
Roy Peter Clark is senior scholar at the Poynter Institute, one of the most prestigious schools for journalists in the world. He has taught writing at every level -- from schoolchildren to Pulitzer Prize-winning authors -- for more than forty years.

A writer who teaches and a teacher who writes, he has authored or edited nineteen books on writing and journalism, including The Art of X-Ray Reading, How to Write Short, Writing Tools, The Glamour of Grammar, and Help! for Writers. He lives in St. Petersburg, Florida, where he is considered a garage-band legend.
Praise For…
---
"Just when you think Clark, who has written some of the best books on the writer's craft, has covered everything related to the subject, he digs deep into literature and excavates a gold mine of artistic strategies for great writing....With lively, colorful writing and inspired practical advice, this guide earns a spot along with Clark's Writing Tools as essential reading for writers. Recommended for book lovers as well."—Kirkus (Starred Review)

"This enjoyable book is perfect for students, writers, and anyone who wants to learn more about great literature."
—Library Journal (Starred Review)

"This is an infectiously enthusiastic guide to becoming an active reader, an homage to the wealth of meaning in great literature, and a striking demonstration of how that meaning can be transmitted from author to reader across centuries and oceans."—Publishers Weekly

"Roy Peter Clark is a national treasure that needs to be mined aggressively"
—DeWayne Wickham, dean of Morgan State University?s School of Global Journalism and Communication, USA Today

"This book sits on the (well-oiled) hinge between close reading and manual. Roy Peter Clark, who knows a thing or two about the writer's trade, digs into passages of successful writing from King Lear to the Goon Squad in order to unearth such writerly tools as foreshadowing, wordplay, shock value, repetition, rhetorical tropes, soliloquy and many more. It's a delightful read and an illuminating method for beginner or pro."—Janet Burroway, author of Writing Fiction and Losing Tim

"Any honest writer will tell you this: It's not tricks that make you better at crafting prose. It's reading. Lots of reading. Close reading. X-ray reading. Roy Peter Clark decodes brilliant passages so that we can not so much emulate them, but make our own magic."—-Constance Hale, author of Sin and Syntax and Vex, Hex, Smash, Smooch