The Wellness Trap: Break Free from Diet Culture, Disinformation, and Dubious Diagnoses, and Find Your True Well-Being (Hardcover)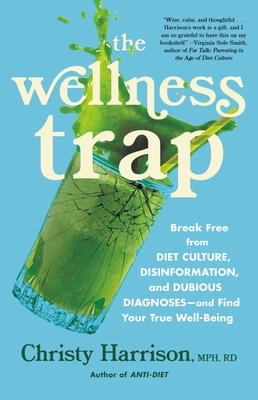 List Price: $29.00
Our Price: $24.65
(Save: $4.35 15%)
Warehouse, In Stock | Usually Ships in 1-5 Days | New
Description
---
A searing critique of modern wellness culture and how it stands in the way of true well-being that "will change the way you think about your health—in all the best ways." (Casey Gueren)
"It's not a diet, it's a lifestyle." You've probably heard this phrase from any number of people in the wellness space. But as Christy Harrison reveals in her latest book, wellness culture promotes a standard of health that is often both unattainable and deeply harmful.
Many people with chronic illness understandably feel dismissed or abandoned by the healthcare system and find solace in alternative medicine, as Harrison once did. Yet the wellness industry promotes practices that often cause even more damage than the conventional approaches they're meant to replace. From the lack of pre-market safety testing on herbal and dietary supplements, to the unfounded claims made by many wellness influencers and functional-medicine providers, to the social-media algorithms driving users down rabbit holes of wellness mis- and disinformation, it can often feel like no one is looking out for us in the face of the $4.4 trillion global wellness industry.
The Wellness Trap 
delves into the persistent, systemic problems with that industry, offering insight into its troubling pattern of cultural appropriation and its destructive views on mental health, and shedding light on how a growing distrust of conventional medicine has led ordinary people to turn their backs on science. Weaving together history, memoir, reporting, and practical advice, Harrison illuminates the harms of wellness culture while re-imagining our society's relationship with well-being.
About the Author
---
Christy Harrison, MPH, RD, is a registered dietitian nutritionist, certified intuitive eating counselor, and journalist who writes about food and nutrition. She is the author of Anti-Diet, as well as the founder and host of the Food Psych podcast, which has helped tens of thousands of people around the world stop dieting, recover from disordered eating, and develop happier and healthier relationships with food. Her writing has appeared in the New York Times, SELF, BuzzFeed, Refinery29, Gourmet, Slate, the Food Network, and many other publications, and her work is regularly featured in national print and broadcast media. Learn more about Christy and her work at christyharrison.com, and subscribe to her newsletter at rethinkingwellness.substack.com. 
Praise For…
---
"Christy Harrison's wise, calm, and thoughtful voice has helped to guide thousands of people out of diet culture and into a better, more peaceful relationship with food and their bodies. In The Wellness Trap she continues this vital work, raising incisive questions and helping us to unlearn decades of marketing and pseudoscience and reject a definition of "health" that is both dangerous and impossible to sustain. Harrison's work is a gift and I am so grateful to have this on my bookshelf."—Virginia Sole-Smith, author of Fat Talk: Parenting in the Age of Diet Culture

"In this remarkable book, Christy Harrison blows the lid off the wellness industry and exposes its flaws, untruths, and toxicity. She shows how closely wellness culture overlaps with diet culture and offers deep compassion for those who are drawn into its myths.  Finally, she offers individual strategies and societal approaches for undoing the harms of wellness culture, while guiding the reader to pursue the holistic concept of "well-being". This book is a life-changer!"—Elyse Resch, MS, RDN, CEDS-S, Co-author of Intuitive Eating

"Wellness seems like a great goal—who doesn't want to be well, right? But after reading The Wellness Trap, you'll see how it is used to distort science and make false promises. With nuance and compassion, Christy deconstructs the history of the idea and shows us how to be well, without being manipulated."—Alan Levinovitz, author of Natural

"If you think that solutions offered in the name of wellness must be good for you, think again! In her compelling book, Harrison reveals the underpinnings of an industry that may not always have your best interests—or your well-being—at heart. Before you start your next diet, supplement, or wellness practice, read this book!"—Judith Matz, LCSW, author of The Diet Survivor's Handbook

"Filled with eye-opening facts, lots of heart, and a strong political consciousness, The Wellness Trap is revelatory and essential reading for anyone who has ever dieted, detoxed, or been drawn to the promise of 'wellness' as a way to feel better about themselves and their bodies."—Savala Nolan, author of Don't Let It Get You Down

"The Wellness Trap is a book I know I have been waiting for. Deftly weaving together scientific research, cultural analysis, and personal narrative, Christy Harrison bestows upon her readers a text that is informative and empathetic... precisely the approach needed to navigate the complex and expanding world of contemporary wellness culture. Whether you're a wellness diehard—or disdain such individuals—this book is for you."—Natalia Mehlman Petrzela, Historian and author of Fit Nation

"If diets, detoxes, and wellness fads have destroyed your relationship with your body, this book is the inclusive, affirming, and evidence-packed guide to rediscovering what true well-being looks like for you. As eye-opening as it is validating, The Wellness Trap will change the way you think about your health—in all the best ways."—Casey Gueren, author of It's Probably Nothing

"[Harrison] mounts a persuasive critique of the multitrillion-dollar wellness industry... A sobering, well-informed analysis of widespread deceit."—Kirkus Reviews

"The historical perspective elevates Harrison's analysis, and her empathy for those who fall for disinformation yields illuminating insight...This is an ideal companion for those disillusioned by the medical establishment."—Publishers Weekly

"Meticulously researched and well-informed, The Wellness Trap isn't another screed against the wellness industry. It's a road map to how we got to this point—and how we might get past it."—Mike Caulfield, co-author of Verified