A Generation of Sociopaths: How the Baby Boomers Betrayed America (Paperback)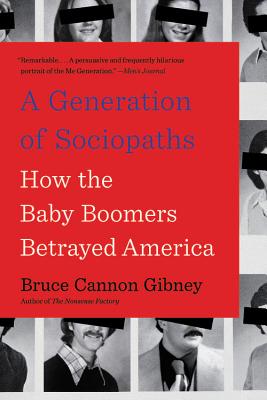 This item is backordered and not currently available. Please contact us for an estimated availability date.
Description
---
In his "remarkable" (Men's Journal) and "controversial" (Fortune) book--written in a "wry, amusing style" (The Guardian)--Bruce Cannon Gibney shows how America was hijacked by the Boomers, a generation whose reckless self-indulgence degraded the foundations of American prosperity.

In A Generation of Sociopaths, Gibney examines the disastrous policies of the most powerful generation in modern history, showing how the Boomers ruthlessly enriched themselves at the expense of future generations.

Acting without empathy, prudence, or respect for facts--acting, in other words, as sociopaths--the Boomers turned American dynamism into stagnation, inequality, and bipartisan fiasco. The Boomers have set a time bomb for the 2030s, when damage to Social Security, public finances, and the environment will become catastrophic and possibly irreversible--and when, not coincidentally, Boomers will be dying off.

Gibney argues that younger generations have a fleeting window to hold the Boomers accountable and begin restoring America.

About the Author
---
Bruce Cannon Gibney is the author of A Generation of Sociopaths: How the Baby Boomers Betrayed America. A venture capitalist and writer, Gibney began as an attorney specializing in securities litigation and financial regulation. He was an early investor in PayPal, and later joined Founders Fund and co-founded Carmenta Management. He and his colleagues have funded Facebook, Spotify, Palantir Technologies, SpaceX, Lyft, AirBnB, Coupang, and DeepMind.
Praise For…
---
"Sure to be controversial."—Fortune

"Informative, provocative, and entertaining reading for those interested in political economy and U.S. social and economic history."—Booklist

"Gibney lays into the 'Me' generation for cashing out their children's future and leaving the planet looking like a rock star's hotel room.... Timely."—Esquire

"A Generation of Sociopaths is a polemic, but what a polemic: filled with data, rich in anecdote, deadly serious yet wickedly funny."—Alexandra Wolfe, author of Valley of the Gods

"The core of Gibney's argument, that the boomers are guilty of 'generational plunder,' is spot-on. He accuses them of 'the mass, democratically-sanctioned transfer of wealth away from the young and toward the Boomers,' and he's right."—Dana Milbank, Washington Post

"Remarkable .... Impressively weighted with hard numbers and specifics, the volume serves as both an indictment of and rebuttal to a Woodstock Generation that has gleefully celebrated themselves for decades while gradually running the country into the ground ... Gibney paints a persuasive and frequently hilarious portrait of the Me Generation."—Men's Journal

"Like Thomas Piketty's Capital in the Twenty-First Century, Bruce Cannon Gibney's A Generation of Sociopaths proceeds from a deceptively simple premise: that the gains made by the American middle class in the period after the world wars of the previous century were a fluke.... A damning, searingly relevant indictment."—The Globe and Mail

"[Gibney] has a wry, amusing style and plenty of well parsed statistics to back him up ... Read A Generation of Sociopaths and hope for the best. Gibney is more optimistic than those who predict an imminent third world war, than the scientists who warn of sudden climate shifts and the end of antibiotics, and even - in one sense - than the evangelicals who believe in the Rapture. He also has a better sense of humor."—Jane Smiley, The Guardian

"[Gibney] maintains that the Boomer Generation, privilege incarnate, exhibit all the traits associated with that clinical pathology: 'deceit, selfishness, imprudence, remorselessness, hostility, the works.' He argues the case well."—Toronto Star

"Uproariously funny but rigorously argued and researched....
Intellectually invaluable..... Re-fram[es] the dysfunction in our politics
as less a consequence of partisan factionalism and more as a grand
agreement between privileged Boomers across the political divide to
enrich their present rather than vouchsafing the future."—Lawyers, Guns, and Money