The Kill Chain: Defending America in the Future of High-Tech Warfare (Paperback)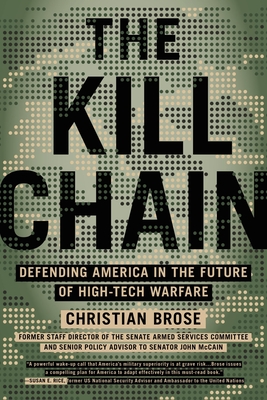 List Price: $17.99
Our Price: $15.29
(Save: $2.70 15%)
Warehouse, In Stock | Usually Ships in 1-5 Days | New
Description
---
From a former senior advisor to Senator John McCain comes an urgent wake-up call about how new technologies are threatening America's military might.

For generations of Americans, our country has been the world's dominant military power. How the US military fights, and the systems and weapons that it fights with, have been uncontested. That old reality, however, is rapidly deteriorating. America's traditional sources of power are eroding amid the emergence of new technologies and the growing military threat posed by rivals such as China. America is at grave risk of losing a future war.
As Christian Brose reveals in this urgent wake-up call, the future will be defined by artificial intelligence, autonomous systems, and other emerging technologies that are revolutionizing global industries and are now poised to overturn the model of American defense. This fascinating, if disturbing, book confronts the existential risks on the horizon, charting a way for America's military to adapt and succeed with new thinking as well as new technology. America must build a battle network of systems that enables people to rapidly understand threats, make decisions, and take military actions, the process known as "the kill chain." Examining threats from China, Russia, and elsewhere,
The Kill Chain
offers hope and, ultimately, insights on how America can apply advanced technologies to prevent war, deter aggression, and maintain peace
About the Author
---
Christian Brose is currently Chief Strategy Officer of Anduril Industries, a technology start-up that develops national defense capabilities, and Senior Fellow at the Carnegie Endowment for International Peace. He served as Staff Director of the Senate Armed Services Committee (2015-2018), where he was the youngest person to hold the position in the committee's history. Before that, he served as Senator John McCain's senior policy advisor (2009-2015). Brose was previously a speechwriter to two secretaries of state, Colin Powell and Condoleezza Rice, and a member of the State Department Policy Planning Staff.
Praise For…
---
"The Kill Chain is a tour-de-force. Few people are as knowledgeable and experienced as Christian Brose in thinking about the intersection of emerging technology and national defense. He pulls it all together in this compelling, unsettling, and outstanding book."—Eric Schmidt, former Chairman of Alphabet and CEO and Chairman of Google

"Provocative, jolting, superb, and on target! The Kill Chain is all of those things and more. If you read only one book to better understand the challenges facing the US military and the promise of emerging technologies, this should be it."—Admiral James Stavridis, former Supreme Allied Commander at NATO and author of Sailing True North: Ten Admirals and the Voyage of Character

"Christian Brose has done the country a great service by writing this important and timely book. The Kill Chain is a powerful and thoughtful challenge to much of the conventional wisdom about national defense. It also offers a compelling vision for how the US military can get beyond business as usual to compete and win in this new era of great power competition. Brose's book should be read by every American."—Senator Tom Cotton (R-AR), author of Sacred Duty: A Soldier's Tour at Arlington National Cemetery

"The Kill Chain is an exceptional--and an exceptionally stimulating--guide to thinking about the military and technological revolutions that will produce a fundamental change to the character of war."—General David Petraeus (US Army, Ret.), former Commander of the Surge in Iraq, US Central Command, and Coalition Forces in Afghanistan, as well as former Director of the CIA

"Christian Brose understands like few others the serious challenges the U.S. military faces, especially in relation to China. He delivers a powerful wake-up call to the American people and our leadership--warning aptly that America's military superiority is at grave risk unless we reimagine defense. Thankfully, Brose issues a thoughtful and compelling plan for America to adapt effectively in this gripping, must-read book."—Susan E. Rice, former US National Security Advisor and Ambassador to the United Nations